dailydot CyberS
'Throw these things off bridges': Footage of robot police dog sparks unease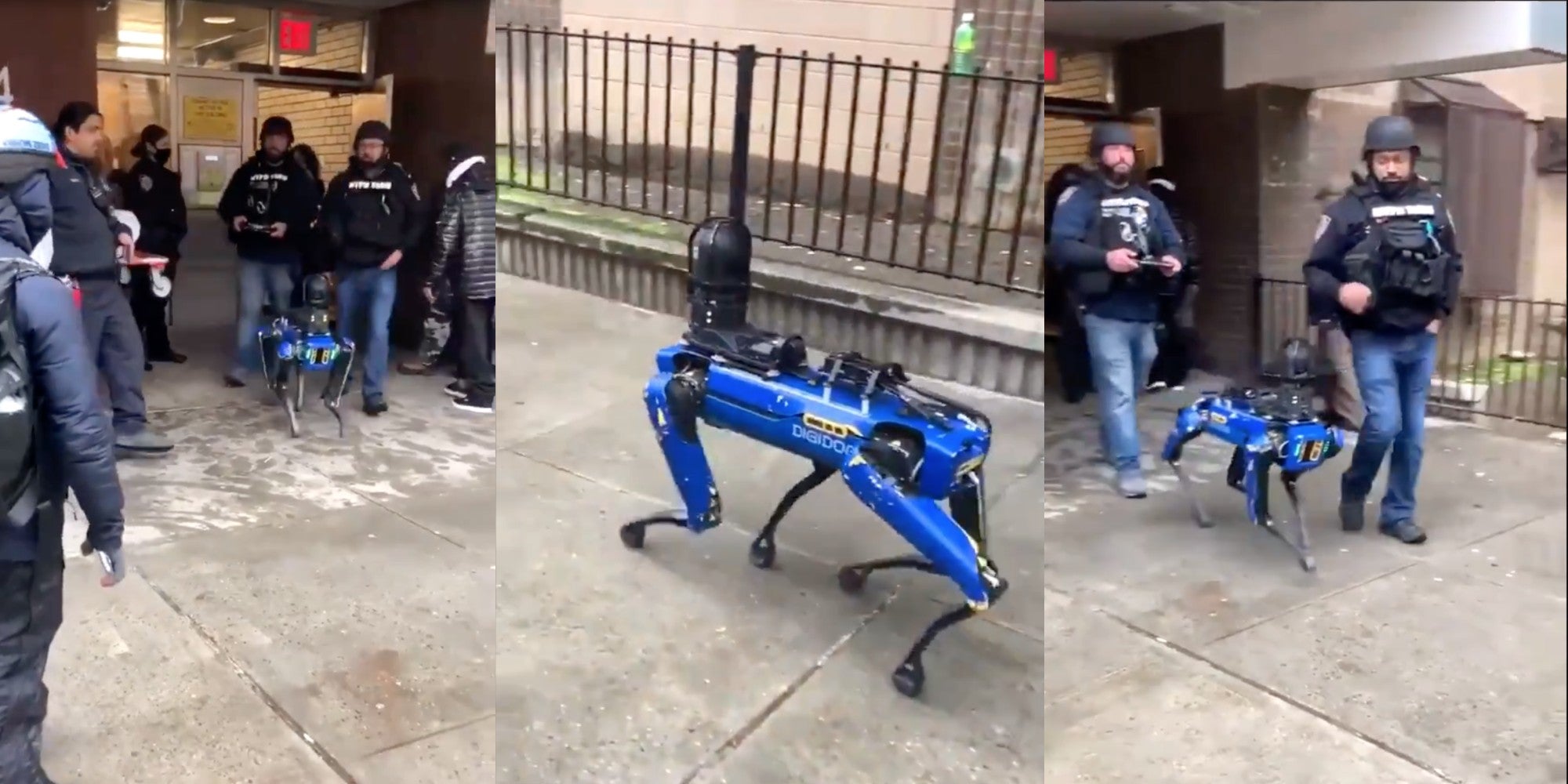 The New York Police Department (NYPD) is sparking unease online over its recent deployment of a "Spot" robot.
Footage posted to Twitter on Monday shows the canine-like automaton, produced by the robotics design company Boston Dynamics, walking alongside police during what appeared to be an arrest.
The clip quickly went viral and spurred pushback across social media, where users described the so-called robotic police dog in post-apocalyptic terms.
"Everyone who has played a sci-fi game set in a dystopian future knows how this ends," writer Oliver Willis said.
Numerous comparisons were also made to Black Mirror, the popular Netflix series which features robots that are eerily similar to Spot.
"By the time my kids are old enough to watch Black Mirror it's going to be a documentary series," @hella_leigh said.
Robots produced by Boston Dynamics have repeatedly gone viral over the past several years. While the company likes to showcase its creations engaged in jovial activities such as dancing, the response from the public often centers around concerns over the technology's misuse.
"Remember all those videos about them opening doors and being all cute dancing?" @Potatopolitics said. "Yea, they were making weapons the whole time and those videos were just propaganda to get you used to the idea that robots with cameras will not only watch you everywhere, but now follow you around."
Others argued that the robot showed that the NYPD is vastly overfunded.
"They're spending the city's money to show off while education, housing, and healthcare get less and less funding every year!" @k80way tweeted. "Sick and sad display, fantasizing about kicking it down the stairs."
The appearance of Spot on Monday is not the first time the NYPD has unleashed Spot onto the public.
The robot dog was also spotted in February, leading to a similar reaction online. A bill was also introduced in New York City to keep the dogs from being armed.
Despite its best efforts to convince the public that its robots won't become armed and dangerous, Boston Dynamics is facing an uphill battle.
The company in February criticized a New York-based art group that attached a paintball gun to the back of one of its robots. Earlier this month, it was revealed that the company's robot dog was being used by the French military in combat drills.
The post 'Throw these things off bridges': Footage of robot police dog sparks unease appeared first on The Daily Dot.