dailydot CyberS
TikToker confronts a man for allegedly driving 50 mph with dog tied to his truck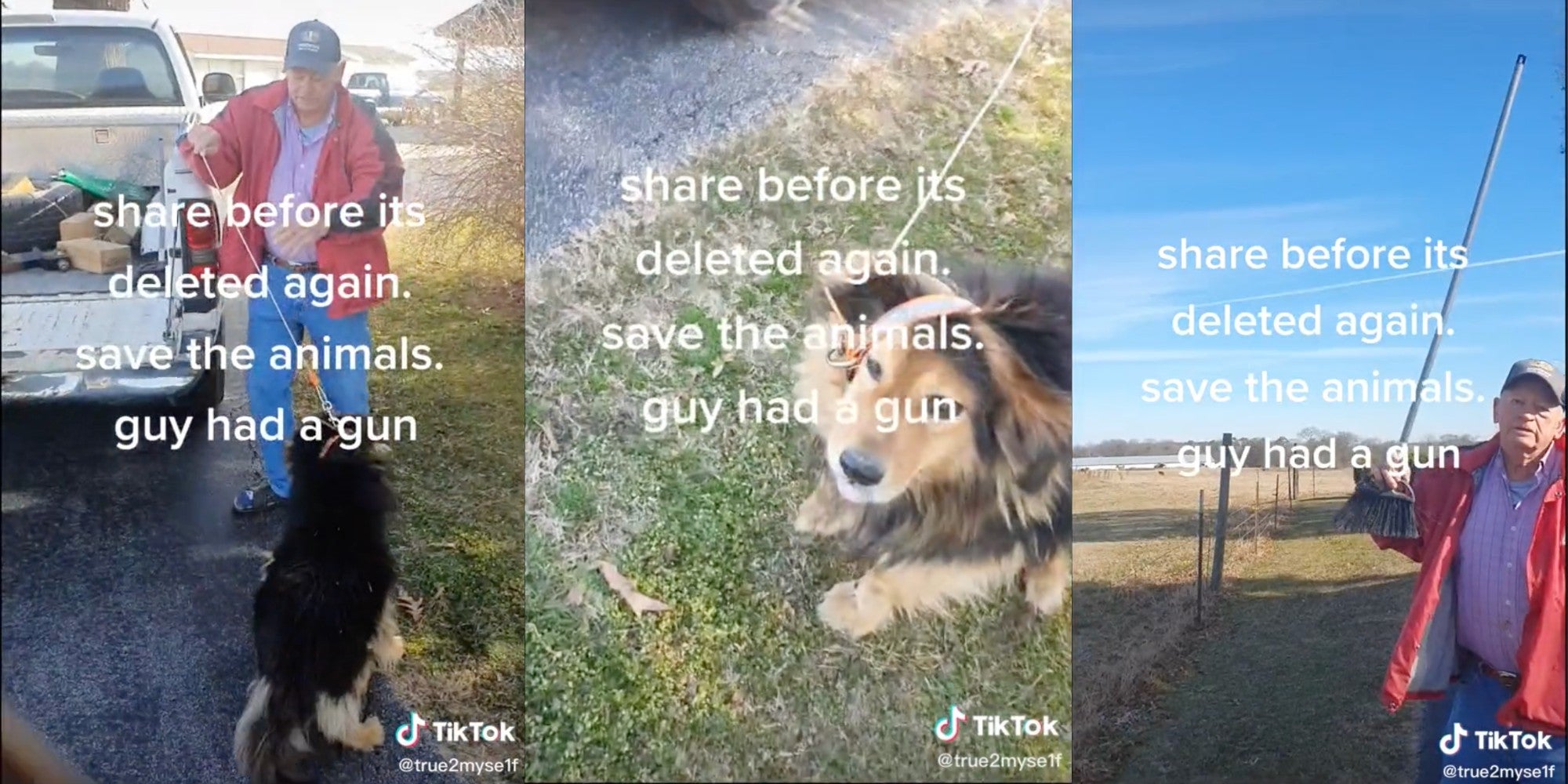 In a viral video, a TikTok user accuses another driver of leaving his dog tied to the sideview mirror of his truck as he drove down a highway. The person recording says, "You almost killed him, sir. That's cruel."
Brett Young shared the video on TikTok twice over the weekend and wrote, "Share before it deleted again." At the beginning of the video, Young approaches a man standing outside of a truck and says, "You just drove that dog 50 miles an hour down that highway." The driver responds, "I wasn't going down the highway."
Young approaches the dog, whose leash appears to be wrapped around the vehicle's right sideview mirror. He says, "You almost killed him, sir. That's so cruel. You don't do that."
"Well, he jumped off the truck and I didn't know it," the driver says before unwrapping the leash from the side mirror. Young approaches the driver, and the driver says, "You get out of here." Young steps back and says, "Well, don't kill it."
The driver grabs a broom from the bed of his truck and runs toward Young. "All right, I'm leaving," Young says. "I'm leaving, don't hurt me sir."
The video, which has accumulated over 716,000 views and over 28,000 likes, prompted comments saying that Young should have stayed with the dog.
"I would have not left that poor puppy till the cops showed up," one person wrote. Young replied that the driver had "reached for a gun."
Some commenters defended the driver, calling the incident an "accident." "Most farmers have guns," one user wrote. "Most farmers have dogs that ride in the back of their trucks, too. Sometimes they jump out and get hurt. It just happens."
In his next video, Young said that TikTok took down the video for including "graphic content," but he said that "it needs to be shared." He also claimed that the driver had a gun, which prompted him to "deescalate the situation" instead of taking the dog.
Young, who did not immediately respond to the Daily Dot's request for comment, said the driver is "high up in the community" and got him "fired and evicted." He said he's in the "court process" right now because he "wouldn't take down the video."
In another video, he said that the "dog is safe now" and that everything is in "the authorities' hands." He told his followers, "If you see abuse happening, you should stop and do something."
The post TikToker confronts a man for allegedly driving 50 mph with dog tied to his truck appeared first on The Daily Dot.