dailydot
TikToker sparks debate after packing '8-year-old child's lunch' for boyfriend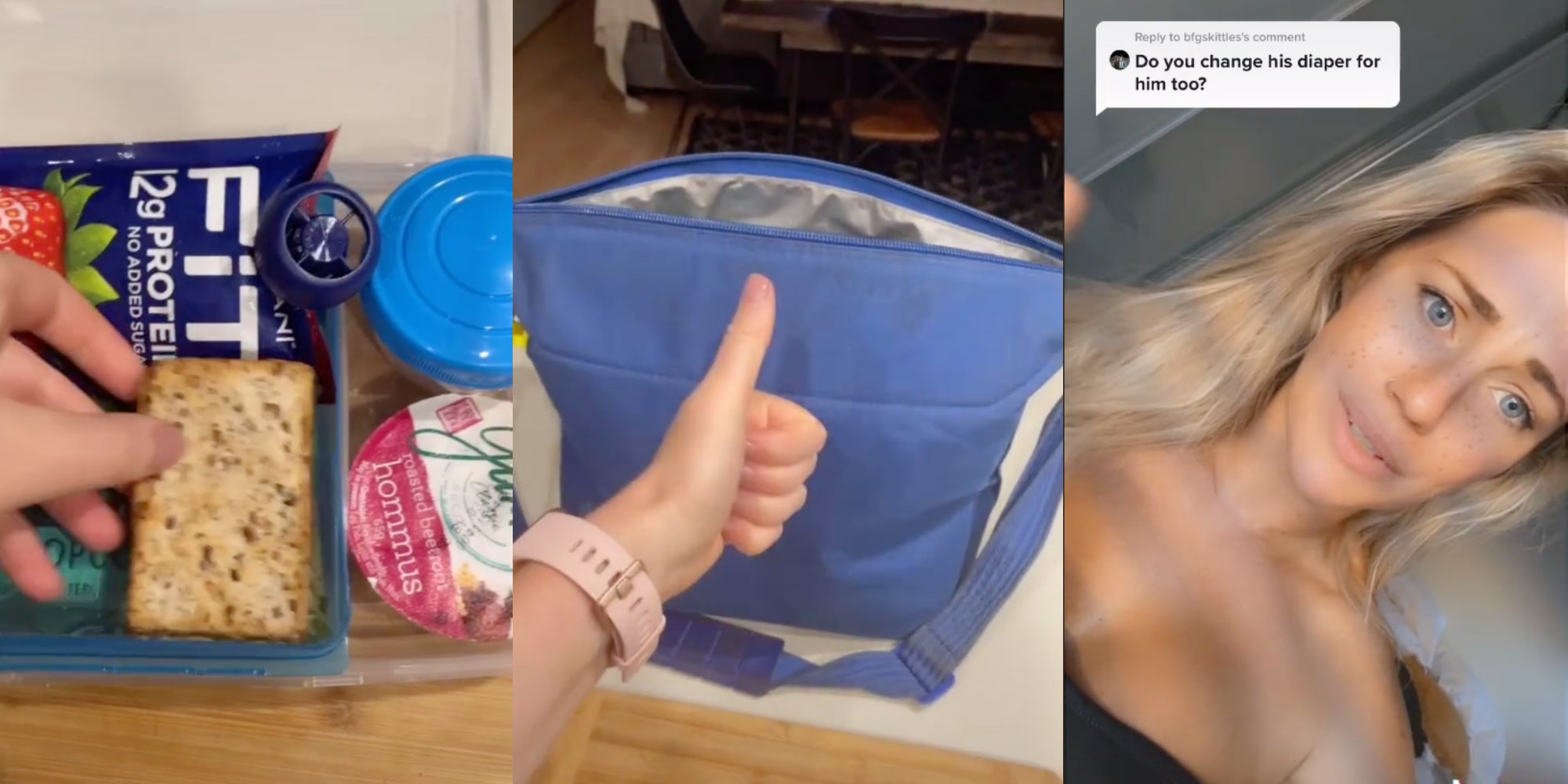 A woman sparked debate on TikTok last week with a seemingly innocuous act: packing lunch for her boyfriend.
At first glance, it may seem difficult for a reasonable person to find anything wrong with the gesture. After all, she's just doing something nice for her partner, right?
Not everyone thinks so.
Australian TikTok user @kiaraelaine__ uploaded her lunch preparation video on Jan. 20, and the subsequent days saw it slowly rack up likes and comments. While it only hovers around 20,000 views, it inspired enough passionate debate to become a global story.
The video in question is simple. Kiara tosses packaged hummus, dried fruit, sausage sticks, grapes, cheese, crackers, popcorn, yogurt, and a small candy into a plastic bento box. She then pops the box into her boyfriend's work bag and gives it a satisfied thumbs-up. The video is captioned "making by boyfriends lunch for work."
A number of people found the video wholesome and charming. They applauded Kiara for ensuring her boyfriend gets a healthy meal every day.
"I make my husband lunch everyday for him to take to work," viewer Lisa Ann Marie commented. "I don't have to make it, but I do as I love making his lunch & making sure he's eating ok." 
Others took issue with the video, however. They saw a child's lunch in the various snacks and finger foods Kiara placed in the lunch box, and they couldn't wrap their heads around preparing lunch for a grown man.
"It looks like an 8-year-old child's lunch lol," Xavier Smith wrote.
Several users agreed, with one urging Kiara to "get him to make it himself ffs."
Kiara had already received some gentle ribbing in the comments for forgetting the meal itself. She addressed the gaffe in a follow-up video that shows her preparing a hearty wrap for her beau along with a variety of healthy snacks.
Kiara's second video received far more views—460,000 and counting—and far less negativity than her first. Most people seemed distracted by her boyfriend's cameo at the beginning. 
"But like are we not gonna talk about how hot her man is," user Chris asked. Kiara assured viewers that they may see more of him in future videos. 
Kiara left her haters with a final statement in a video posted last week. Responding directly to a user who asked, "Do you change his diaper for him too?" Kiara addressed "all the Karens and negative Nancys."
"I make my partner's lunch because I make my own at the same time, so why not?" she said. "At least then I know what he's eating, that he's eating quality food that's going to give him energy to last through the day because he works hard."
All those angry commenters are probably just jealous, anyway.
The Daily Dot has reached out to Kiara.
H/T Mirror
The post TikToker sparks debate after packing '8-year-old child's lunch' for boyfriend appeared first on The Daily Dot.