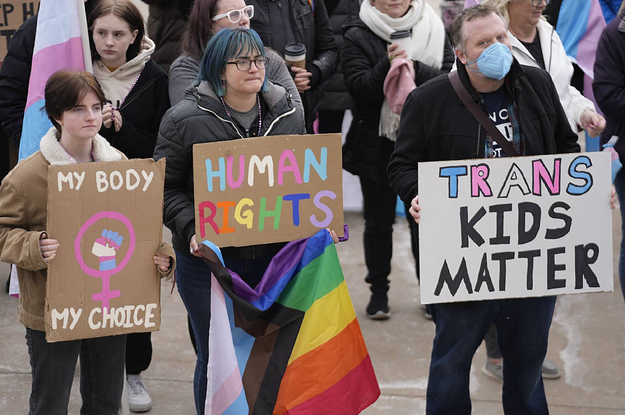 The ACLU wrote to Cox on Friday urging him to veto the bill stating that it "compromises the health and well-being of adolescents with gender dysphoria."
"The bill is riddled with numerous constitutional issues," the letter read. "It violates the equal protection rights of transgender adolescents and the due process rights of their parents. This bill clearly discriminates on the basis of sex and transgender status. The bill also infringes upon the substantive due process rights of parents to direct the care, custody, and control of their minor children, which includes the right to follow medical guidelines for treatment.
Equality Utah, the state's largest LGBTQ civil rights organization, said on its website that a lawsuit over the law is "inevitable."
"We know many families are frightened and wondering what will happen next," the statement read. " We are working with our legal team to assess the full ramification of this bill. What is clear though, is that a legal challenge is inevitable. This is not the end of this work. In many ways, it has just begun."
Utah's ban on gender-affirming care for minors is the first to become a law in 2023, with Republican lawmakers prioritizing it at the start of the legislative session. Other states are likely to follow; the Associated Press reported at least 18 other states are considering bills on healthcare for trans youth.
A 2022 national survey on LGBTQ youth mental health by the Trevor Project found that 93% of transgender and nonbinary youth said that they have worried about being denied access to gender-affirming medical care due to state or local laws.
"Recent political attacks aimed at transgender and nonbinary youth have not only threatened their access to health care, support systems, and affirming spaces at school, they've also negatively impacted their mental health," Dr. Jonah DeChants said in the statement at the time.
If you or someone you know needs help or support, The Trevor Project's Crisis Counselors are available 24/7/365. You can reach a counselor by texting START to 678-678, via chat at TheTrevorProject.org/Get-Help, or by calling TrevorLifeline at 1-866-488-7386.