dailydot
Video: 3 white men yell racist slurs at Hispanic man in Popeyes parking lot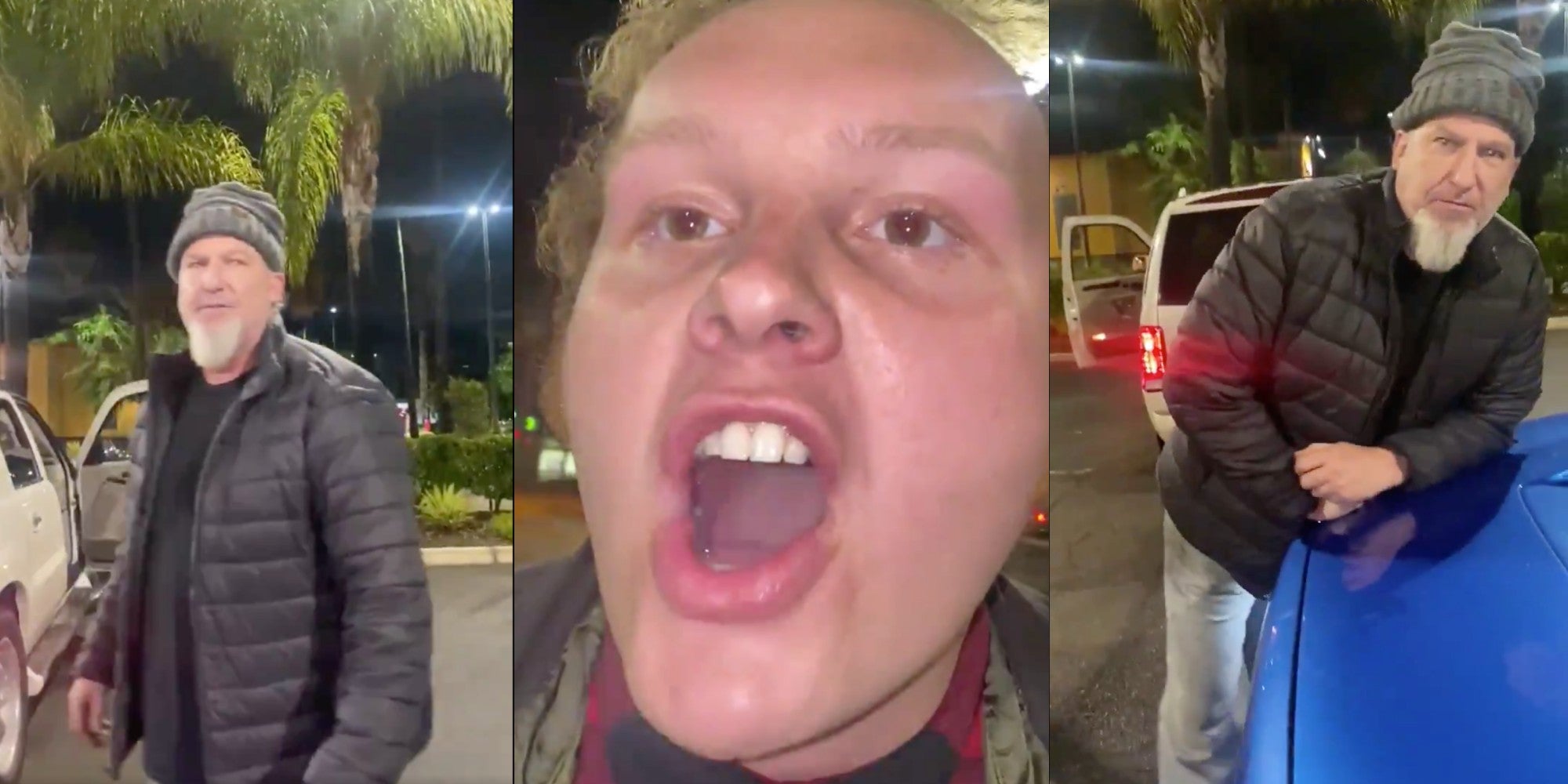 Videos posted on Twitter on Friday show three white men antagonizing a Hispanic individual in a Popeyes parking lot in Escondido, California. The white men repeatedly tell the man to "go back to where you fucking came from."
The man who recorded the videos, Twitter user @jonpeace67, tweeted the clip on Friday and wrote, "And this is the type of trash we have in Escondido, and Trump helped expose. Pathetic."
In one video, three unmasked men surround a Hispanic man filming in the parking lot and yell, "Go back home."
The person recording, has an accent, says, "Oh, little pussy don't want to say it anymore?" One of the men hits the individual's phone and says the N-word.
As the person filming tries to capture the group's license plate on camera, the group quickly moves to cover the back of their vehicle.
The person filming says, "So, you just told me to go back to Mexico?" One of the white men replies, "Send it to the news, I dare you." At the end of the video, one of the white men continues to yell the N-word.
In the next video, the white men call the Hispanic man a "bean boy." One of the white men says, "Next time, keep your fucking mouth shut."
One of the white men was identified as Nick Dunn, who recently criticized President Joe Biden and mask mandates on local news, Heavy reports. Dunn told Los Angeles news station KCAL on Jan. 20 that he doesn't think he "should be forced to wear a mask because this is America, not China."
After the video gained more traction, Dunn posted an apology video on YouTube that was later deleted.
In the video, Dunn claimed that the individual "antagonized" and "provoked" the group of men.
"The guy was looking for this to happen," Dunn said. "I'm truly … sorry for the way that I behaved. I'm not really like that. I'm not racist or anything. He was trying to get us to do this."
Dunn also said he "is actually an Eagle Scout" and that he is "unhappy" with his behavior. Near the end of the video, he said, "If you're ever getting your face recorded, just keep your mouth shut." He added, "I think if people really, you know, thought about like what it would be like to be a Trump supporter … We're not racist."
The user who posted the video responded to the apology on Twitter and wrote, "Don't go victimizing these sorry excuses for human-beings." The user did not immediately respond to the Daily Dot's request for comment.
"No matter what I said to them," the user wrote. "They have no fucking right to use racial and homophobic slurs." He wrote that the group of men called a Popeyes worker, who is also his friend, the N-word. He said this response prompted the incidents in the video.
The user clarified in another tweet that he did not leak the men's identifying information, but he said he's glad someone did "so the community can know they live next to a group of racist."
The post Video: 3 white men yell racist slurs at Hispanic man in Popeyes parking lot appeared first on The Daily Dot.