dailydot CyberS
Video: Anti-mask 'Karen' blocks coffee shop drive-thru for over an hour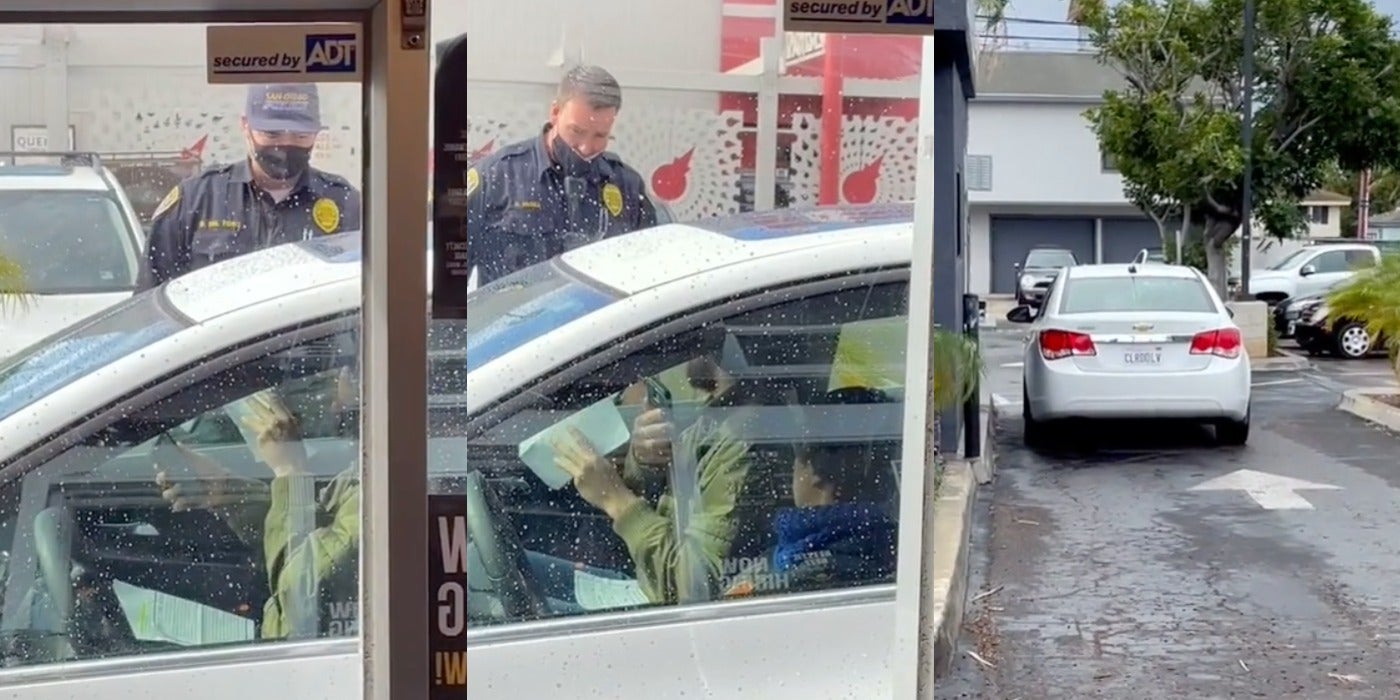 A viral TikTok video shows a woman dubbed a "Karen" sitting in a coffee shop drive-thru for an hour because she refused to wear a mask to be served.
The video was posted to TikTok by Hannah Morelli, who works at Better Buzz Coffee in San Diego. The footage shows the two unmasked people in a car, and Morelli said they had already been sitting at the drive-thru window for nearly half an hour.
The video's caption says, "This lady decided to sit at our drive-thru window for and hr & a half cus she decided our mask policy doesnt apply to her."
In the next cut, Morelli stands outside with a coworker and says, "She's been here for, what 40 minutes now? Does she wanna clock in? She basically works here at this point. What's it like to have this much time on your hands? What's it like to be so bored?"
In the subsequent cut, San Diego police have arrived and are speaking to the woman in the drive-thru.
Morelli made a subsequent video to clap back to a commenter who said they live in an area where establishments ban masks. "Oh, say you live in a red state, without saying you live in a red state," Morelli says.
In another follow-up video, Morelli explained that there's a relatively short distance between the driver and the server in the window, so the business requires masks to be worn for service. She also explained that the anti-masking coffee Karen claimed she was "exempt" from mask policies.
Morelli said employees have accommodated other anti-maskers by serving them away from the building, which complies with the California mandate to find a safe way to continue service. However, Morelli said the "Karen" pulled up to the drive-thru and said relocation would be an inconvenience. At this point, the establishment can deny the patron service. 
Morelli also said that a line built up to the point that another patron wearing a mask walked up to the car. Morelli said that finally, even though they flashed alleged health documents to the San Diego police, the "Karen" and her companion were asked to leave, and Better Buzz did not serve them. 
The post Video: Anti-mask 'Karen' blocks coffee shop drive-thru for over an hour appeared first on The Daily Dot.