dailydot CyberS
Video resurfaces of Marjorie Taylor Greene wanting Muslim congresswomen to retake oaths on Bible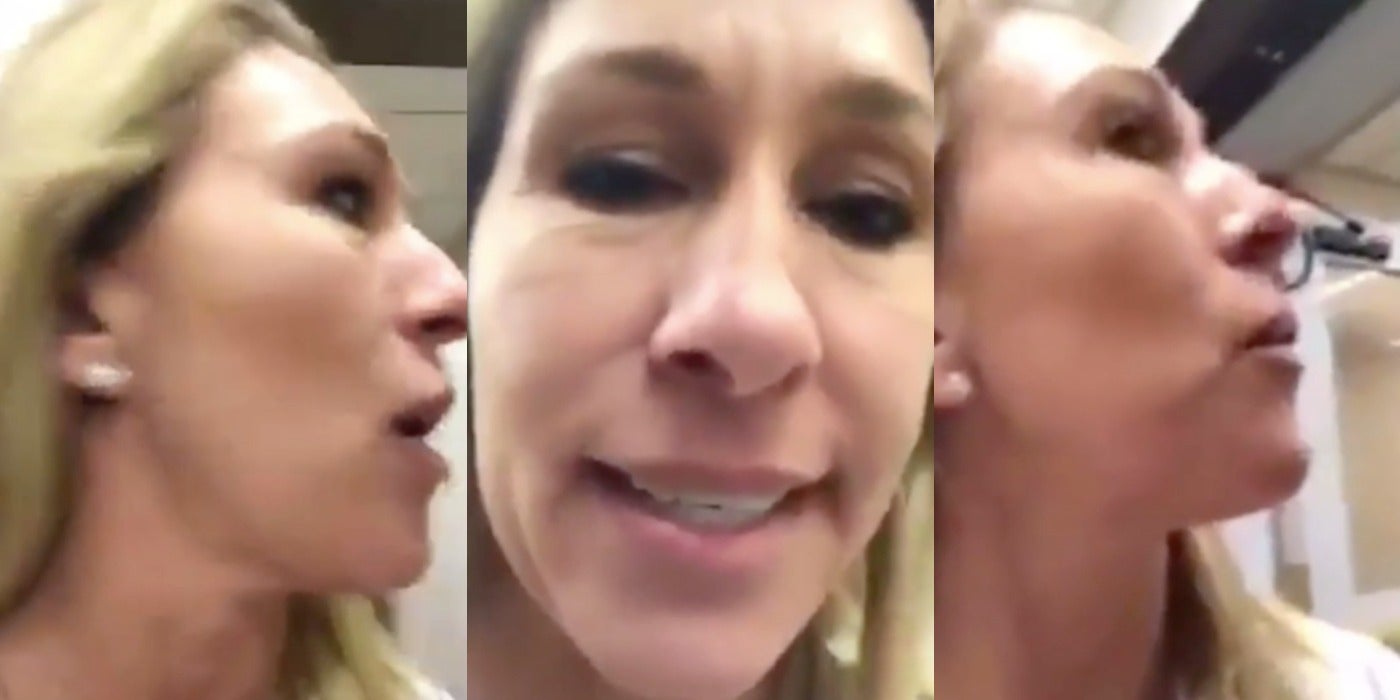 Yet another video has resurfaced of Rep. Marjorie Taylor Greene (R-Ga.) making racist and xenophobic statements.
This particular video shows the QAnon-stanning Republican discussing forcing Reps. Ilhan Omar (D-Minn.) and Rashida Tlaib (D-Mich.) to retake their congressional oaths on the Bible instead of the Quran.
Greene films herself walking through the halls of Congress, claiming that Omar and Tlaib—who are both Muslim—were illegitimate representatives because they were sworn into their offices with the Quran instead of the Bible.
"We're gonna talk about swearing in on the Bible with them and let them know what our law says," Greene tells some uninformed henchmen.
Mehdi Hasan shared the video on Twitter, but it also found a home on Reddit's r/PublicFreakout page.
"We're going to explain about how you can't swear in on the Quran," Greene continues. "We're going to have the Bible and ask them if they would swear in on the Bible."
Greene and members of her entourage claim it's illegal to swear into office on anything other than a Bible, which is patently untrue. According to Article VI of the United States Constitution, "No religious Test shall ever be required as a Qualification to any Office or public Trust under the United States."
Three presidents did not use Bibles when taking their respective oaths: John Quincy Adams, Theodore Roosevelt (following the assassination of William McKinley), and Lyndon B. Johnson (following the assassination of John F. Kennedy.)
This is hardly Greene's first display of overt racism. She recently sat down with Katie Hopkins, a far-right pundit and unabashed bigot who was banned from Twitter for violating its abusive and hateful speech policies. Greene said she had no regrets about the Jan. 6 Capitol riot and would trade Hopkins—a vocal proponent of the white genocide conspiracy theory—"for some of our white people here that have no appreciation for our country."
Footage of Greene harassing Parkland shooting survivor David Hogg also resurfaced this week after the Daily Dot first reported it last June. Furthermore, she previously liked Facebook comments that called for executing prominent Democratic leaders such as House Speaker Nancy Pelosi (D-Calif.) and supported "Frazzledrip," a debunked conspiracy theory accusing former Secretary of State Hillary Clinton of torturing a child on video.
Many lawmakers and political commentators have deemed Greene unfit for office and called for her expulsion or resignation due to her outlandish, conspiratorial speech and actions.
MSNBC anchor Joy Reid said that people like Greene "are no longer just fringe movements and fringe people. They have fused with the normal politics of the Republican Party. And at this point, they are coming to define the politics of the GOP itself."
The post Video resurfaces of Marjorie Taylor Greene wanting Muslim congresswomen to retake oaths on Bible appeared first on The Daily Dot.