dailydot
Video showing trash can full of Dunkin' doughnuts sparks outrage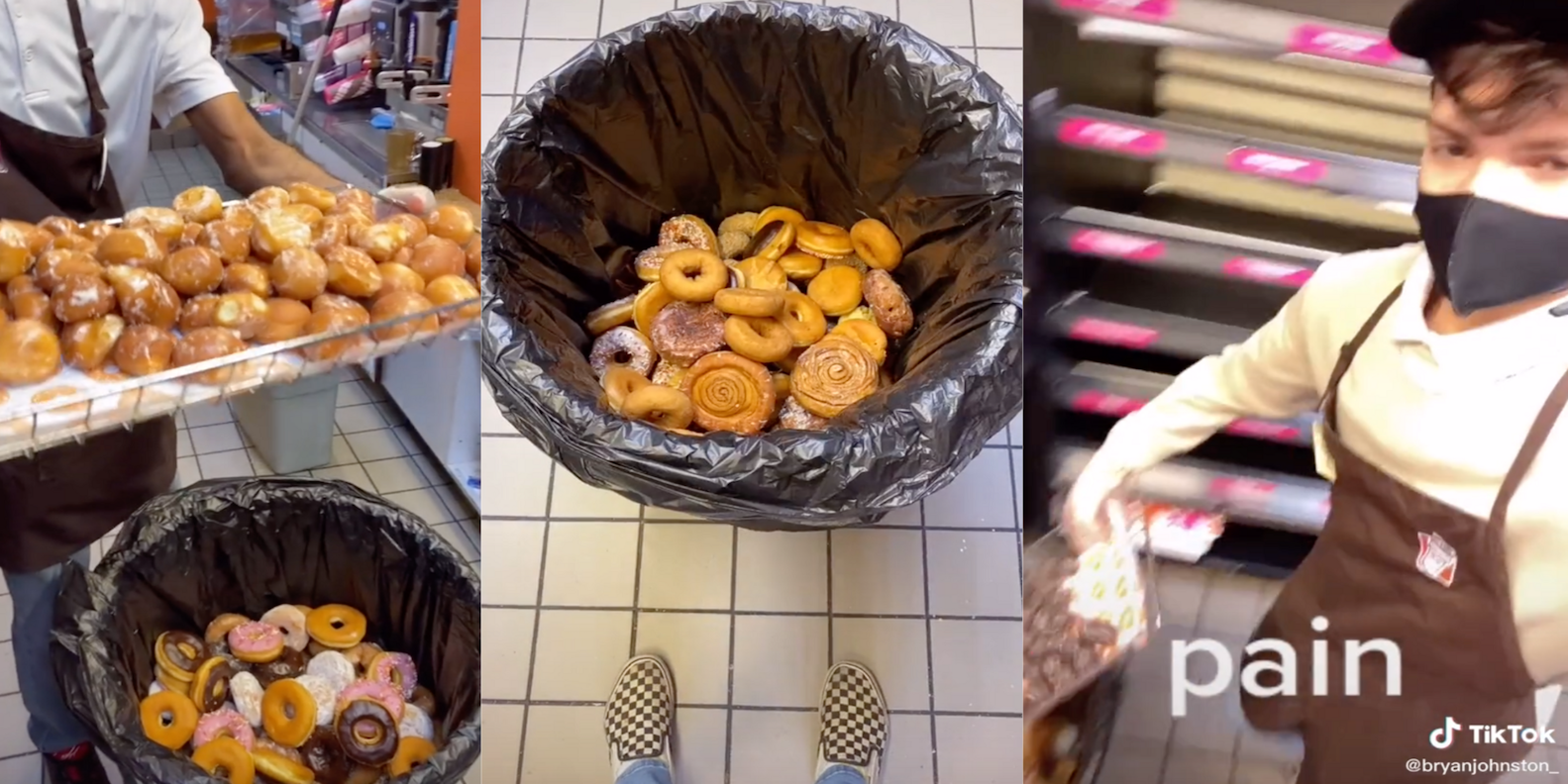 A video showing a Dunkin' employee throwing away enough doughnuts to fill a garbage can sparked outrage online regarding the company's food waste practices. 
The video was posted by TikTok user @bryanjohnston_ , who captioned it "every night…312 donuts + munchkins." 
The Natural Resources Defense Council reported in 2012 that restaurants and food service providers generate two to four times the waste of grocery stores, retail supercenters, and wholesale distributors combined. The report said U.S. restaurants are estimated to create 22 to 33 billion pounds of food waste each year.
Dunkin' told the Daily Dot in an emailed statement that its food donation program is "an option" for owners and franchisees except in regions where food donations are regulated. "It is left to the discretion of the individual owner/franchisee of each restaurant whether or not food is donated at the end of the day," the statement said.
Twitter user @ItsTerrax3 posted a screenshot of an identical statement from Dunkin' after the user reached out to the company via direct message.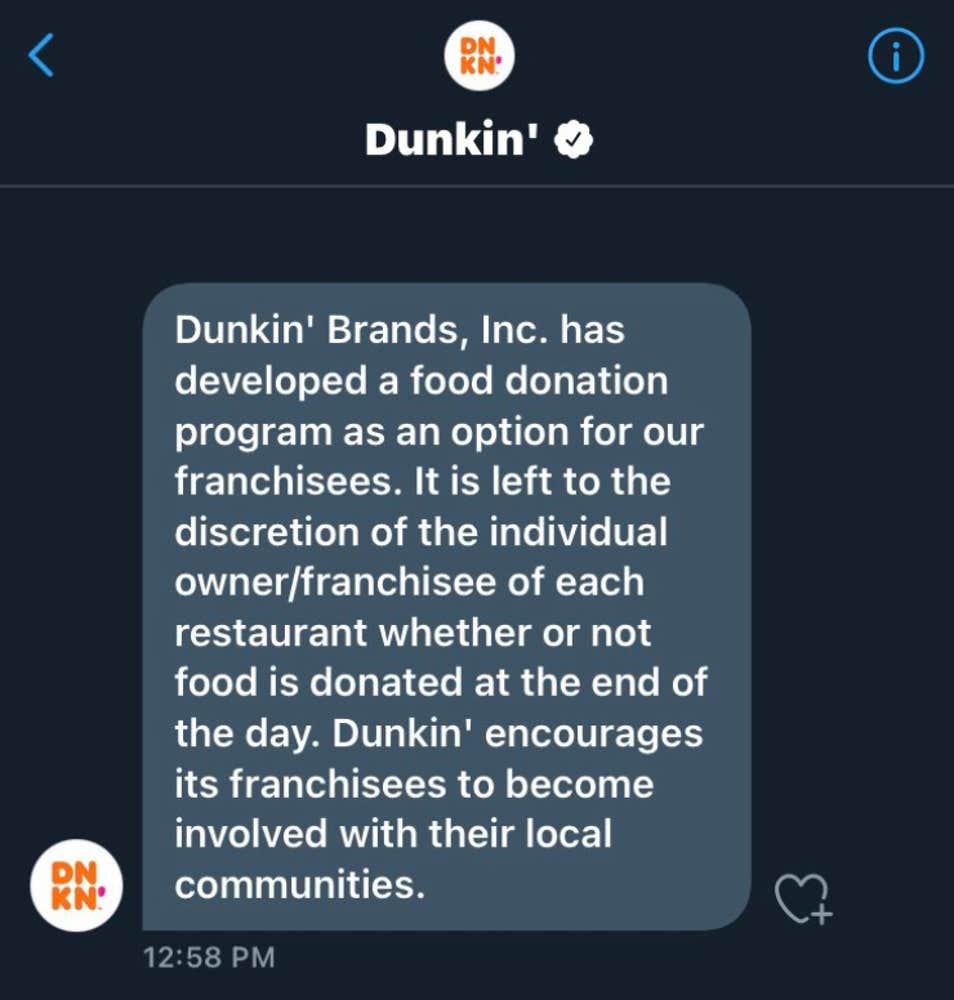 User @jaebuteraaa responded to Dunkin' in a public tweet and said they didn't think it was fair for the franchise owner to decide whether food was donated or not.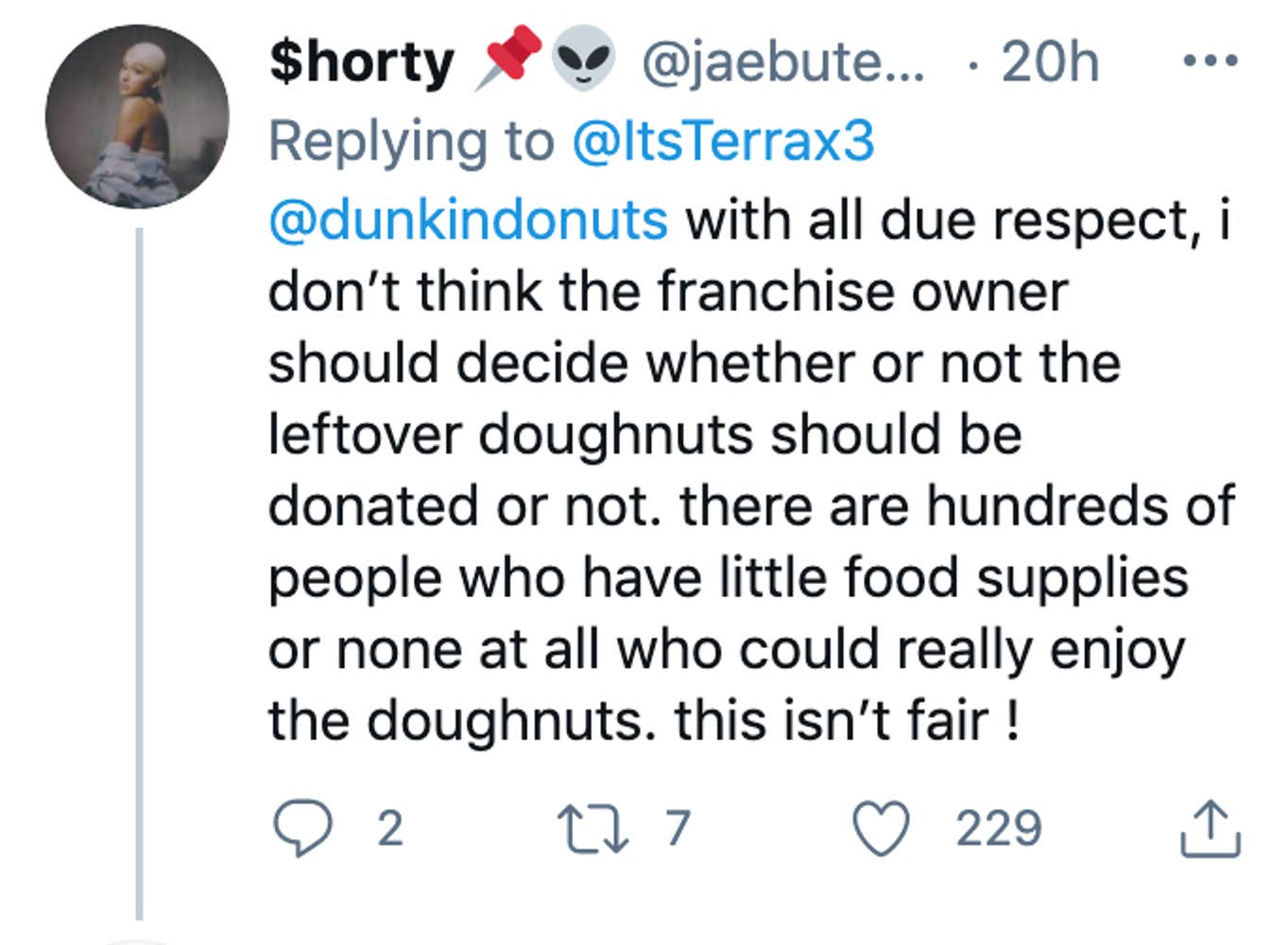 Although food waste diversion rates vary between companies, a 2013 survey of restaurants respondents conducted by the Food Waste Reduction Alliance revealed that only 1.4% of food waste is donated and 84.3% is discarded. For larger companies with more than 10 locations, transportation constraints and insufficient storage and refrigeration on site were the top two barriers to decreasing food waste, followed by liability concerns. 
Still, some people on Twitter and TikTok expressed outrage over the video that showed the amount of food being thrown away. TikTok user @tpwk_michaelj wrote, "DANG AT LEAST GIVE THE HOMELESS SOME AND NOT WASTE THEM ALL."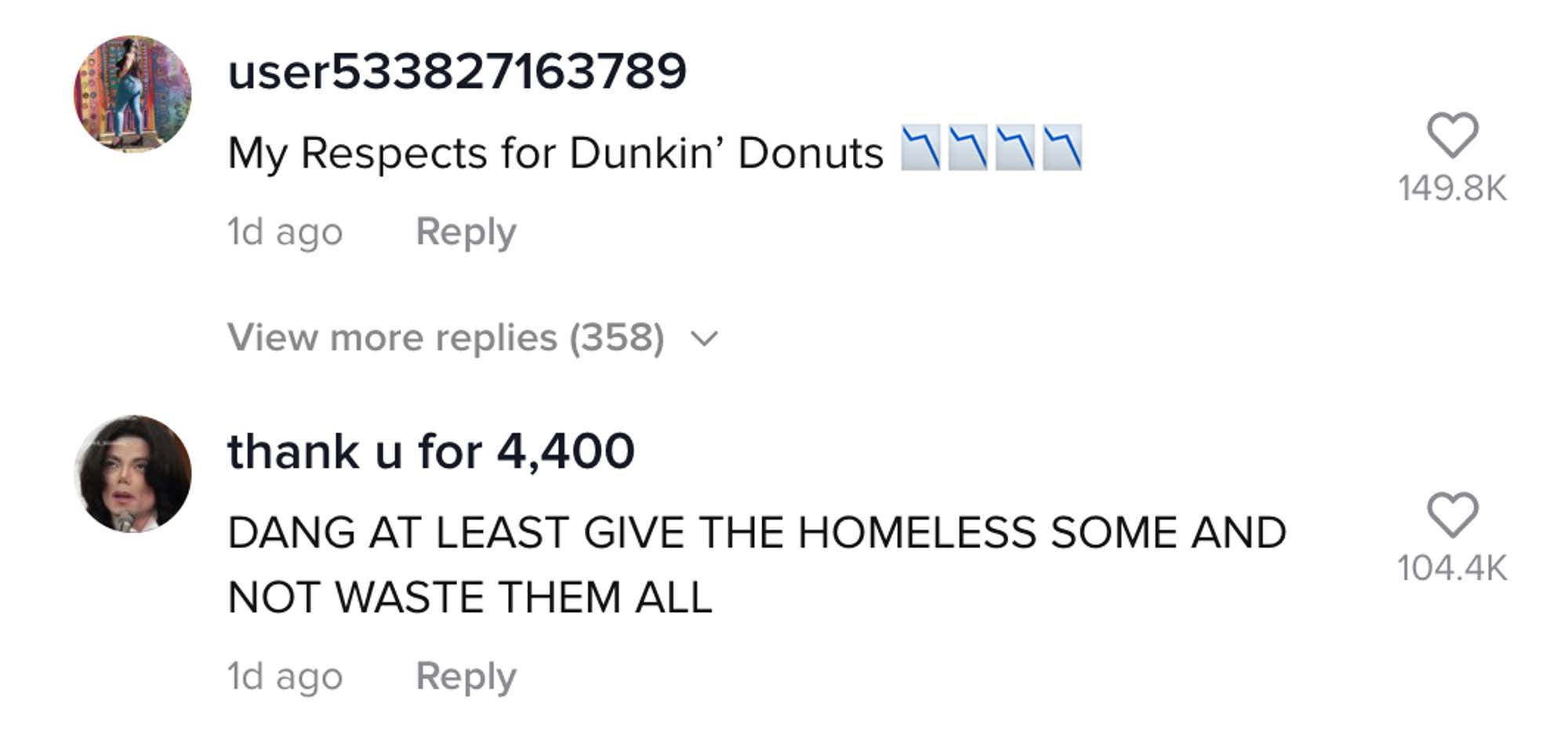 Other social media users said that Dunkin' could be trying to avoid a potential lawsuit from people claiming that their food made them sick.

"If McDonald's did that and someone died because of food poisoning, you'd be up in arms about it," said Twitter user @Sabamika1.

While some companies may avoid giving out food for free, they have protections for donating to nonprofit organizations like local food banks.
The Federal Bill Emerson Good Samaritan Food Donation Act protects companies and organizations from donating food to nonprofit organizations. This bill was created to encourage the food and grocery product donation from companies that would be afraid of being sued for liability.
But the suggestion to donate doughnuts to people experiencing homelessness raised other concerns on social media. Twitter user @Tory_V said, "It's crazy how y'all think homeless people wanna eat donuts for dinner. Mind you a lot of them already have chronic illness(es) like diabetes."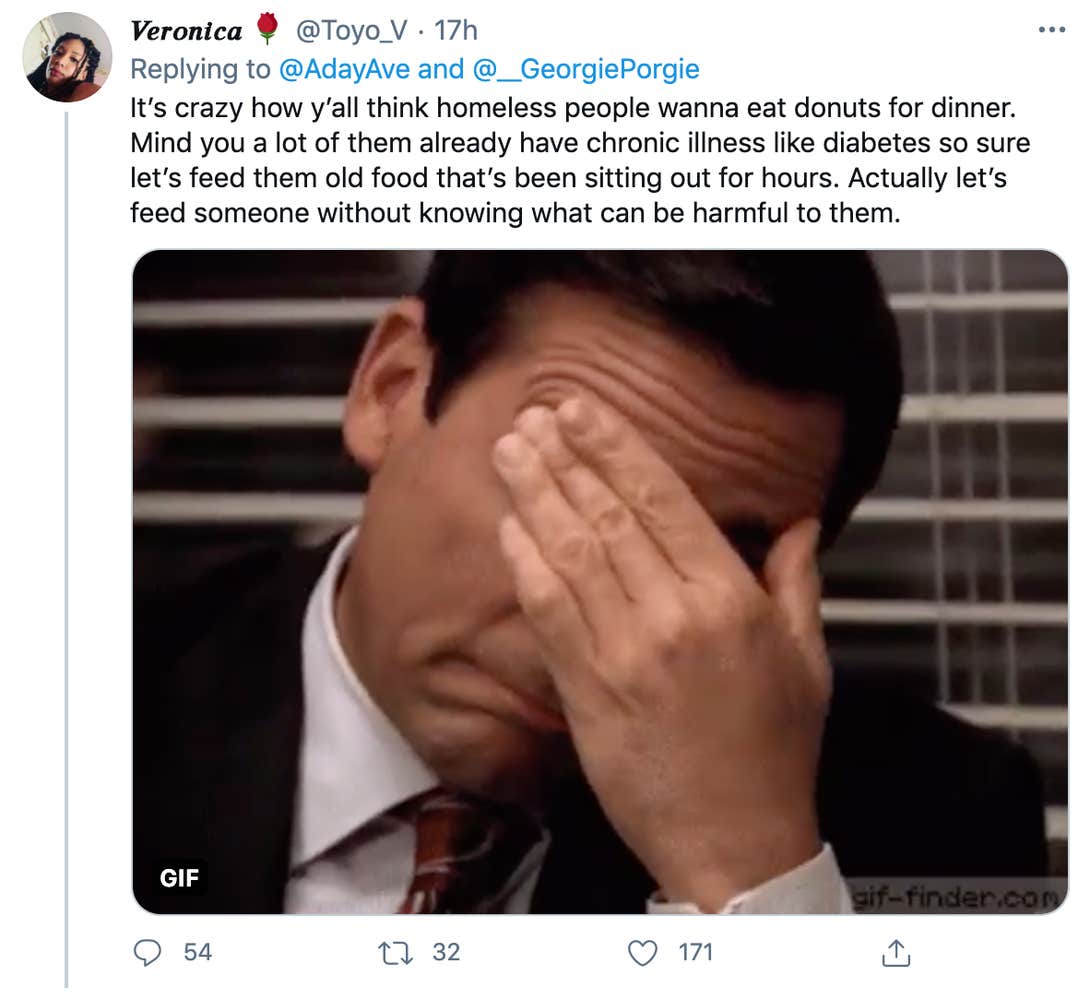 Food insecurity, which has been found to be linked to chronic disease, can create a cycle of chronic illness and food insecurity. When a family can't afford enough nutritious food, leading to chronic disease, the time and money needed to treat poor health conditions strains existing income, leading to even greater food insecurity.
With food making up 24% of U.S. landfills as of 2018, the Dunkin' TikTok video is just one part of an ongoing conversation on how companies can operate more sustainably.
The post Video showing trash can full of Dunkin' doughnuts sparks outrage appeared first on The Daily Dot.