dailydot CyberS
Video shows anti-vaxxers heckling drivers waiting to get COVID-19 vaccine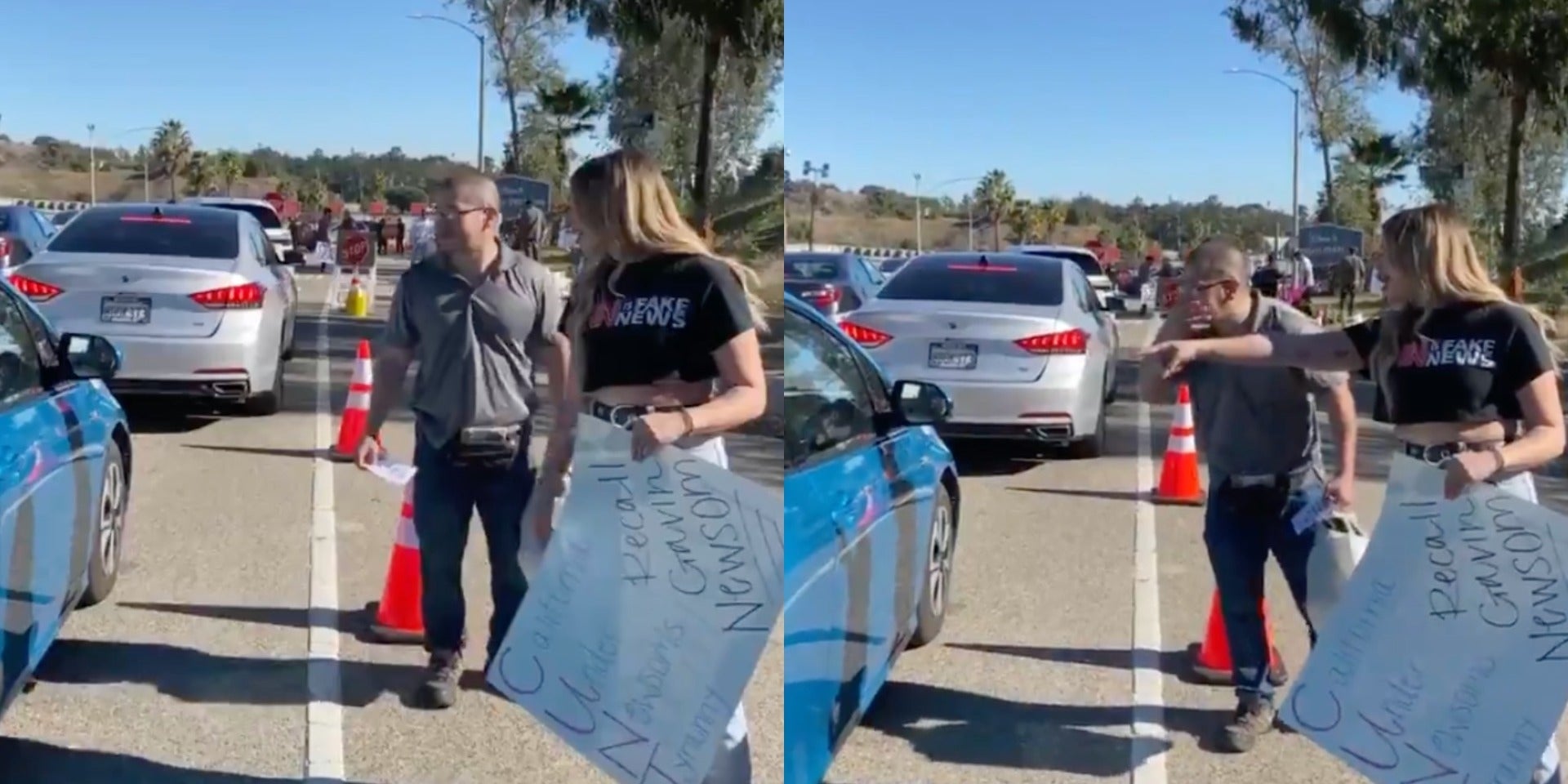 As the United States continues to distribute COVID-19 vaccines at a glacial pace, anti-vaxxers have doubled down on their efforts to wake the sheeple.
Those efforts resulted in the brief closure of Los Angeles' Dodger Stadium, one of the largest COVID-19 vaccination sites in the country, on Saturday, the Los Angeles Times reports.
Roughly 50 protesters gathered at the stadium entrance, halting the flow of traffic for hundreds of motorists and forcing the Los Angeles Fire Department to close the venue for about 55 minutes.
One social media post reportedly called the demonstration the "Scamdemic Protest/March." It was described as "a sharing information protest and march against everything COVID, Vaccine, PCR Tests, Lockdowns, Masks, Fauci, Gates, [California governor Gavin] Newsom, China, digital tracking, etc."
Video shared on Twitter by @davenewworld_2 shows protesters walking up to motorists' cars and heckling them as they wait in line.
"Have fun being a byproduct of Bill Gates," says a protester wearing a "Fake News" shirt and holding a sign that says "CUNT: Californians Under Newsom's Tyranny." She then asks, "Why are you wearing a mask in your car?"
"Your dog needs a mask!" another man mockingly tells the driver.
"Do you think you can get COVID through your dog?" the woman asks. She shakes her head in disgust and says, "Your dog is smarter than you."
Twitter users could not fathom the logic of the anti-vax protesters and wondered what they hoped to accomplish with their demonstration.
Others noted the irony of a bunch of cellphone-wielding protesters warning of the dangers of being microchipped.
"She says something about getting microchipped by Bill Gates but I guarantee she has a smart phone in her pocket/ purse."
Despite the brief venue closure, no appointments were canceled.
The post Video shows anti-vaxxers heckling drivers waiting to get COVID-19 vaccine appeared first on The Daily Dot.