dailydot
Video shows 'Karen' spitting on woman, refusing to let her into dog park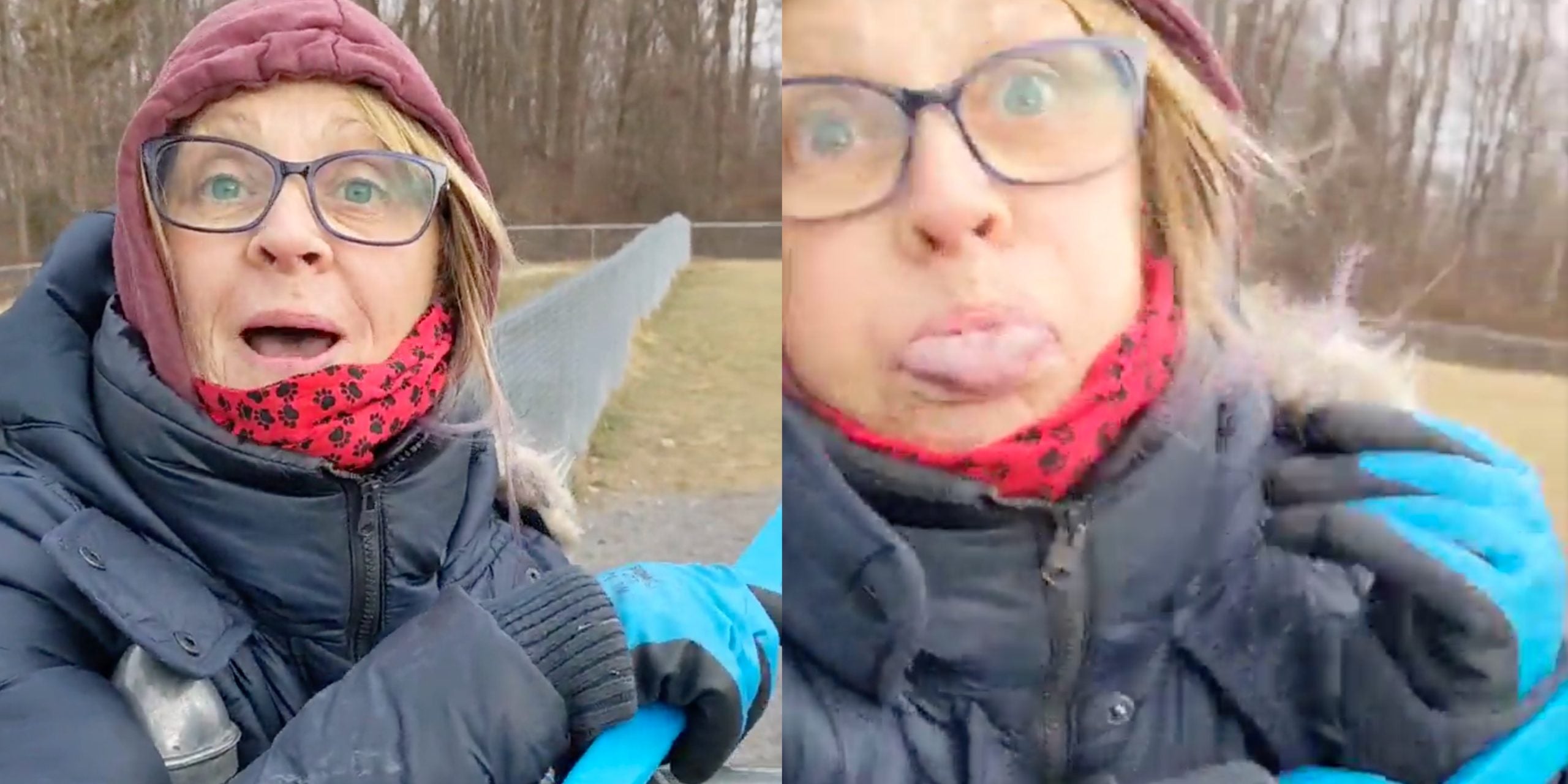 A video has emerged showing a woman spitting on another woman while refusing to let her into a dog park. 
The video was posted to Reddit on Tuesday by user @hear_roo_roar, who claims they filmed it.
"(Entitled b*tch) thinks she owns the public dog park and refuses to let me in on a regular basis, so I recorded her this time," @hear_roo_roar captioned the video.
"I am not waiting. It's a public dog park. You can't tell me what to do. I'm filming you right now to send it to the police," the woman says from behind the camera as she walks up to the gated entrance of the dog park. According to their conversation throughout the video, as well as the woman's comments on Reddit, it appears that this is a common occurrence.
The gate to the park is closed and a woman, with her mask down and holding what appears to be a blue plastic stick, is standing guard and arguing back. She is identified as "Deb" in the video.
"Let me get the dog out of the park, and you can come in," Deb says. 
Deb keeps asking the woman to "back off," while the woman repeatedly tells Deb to move out of the way so that both she and her dog can enter. Deb's dog is seen inside the dog park with another woman. 
When Deb's friend tries to say that the woman should step aside so that they can walk their dog out, she responds, "No, this is a dog park, and it's public, and I wanna bring my dog in."
She goes on to say that Deb "walked in my face maskless" and Deb, just inches away from the woman, spits on her and laughs loudly. 
"Isn't that special?" Deb says. 
"Get out of my way, Deb. I'm gonna report you and your business if you wanna keep selling dogs," she says, keeping her calm. "I'm not gonna let you bully me like everyone else. I'm just going to get you kicked out of this dog park, too. I know you're not allowed to come back to a lot of them for this reason." 
Deb opens the gate and leaves with her friend and their dog. As she tries to close the gate of the park, the woman behind the camera starts yelling at her to not close the door. 
"Excuse me, I am coming out. Do not shut the door on me!" she says. "Get the fuck away from me. Don't ever touch me again."
It's not clear from the video if either woman was touched.
The woman then follows Deb to her car and claims to her viewers that this happens a lot. 
It wasn't immediately clear where the incident took place. The user who uploaded the video did not respond to the Daily Dot's request for further information.
The video garnered hundreds of comments, but not everyone sympathized with the woman recording the incident. At the end of the video, the woman is seen returning to her car, which was playing children's music. Many took issue with the fact that she left her child in the car during the whole incident.
"You left your child alone to escalate this as well?" wrote one user. "It was more important than the safety of your kids to correct her 'petty' behavior?"
"It's a dog park, who drops their dog off and leaves it unattended?" wrote another. "You still have to watch your dog. And did she have her kid just in the car alone during the first bit? Yea, they both seem crazy to me."
In her responses to these posts, the woman claimed that her son is not allowed in the park, so he had to stay in the car.
"Everyone else who comes to the park is awesome and our dogs all get along, so they understand that I'm trying my best. Plus, the dogs just all run around while the humans talk anyway," she wrote in one of her responses. "At our dog park, it's not uncommon for an owner to walk away for a little while if their dog is cool and we know them."
The post Video shows 'Karen' spitting on woman, refusing to let her into dog park appeared first on The Daily Dot.