dailydot
Video shows white man trashing convenience store, harassing employee with anti-Muslim slurs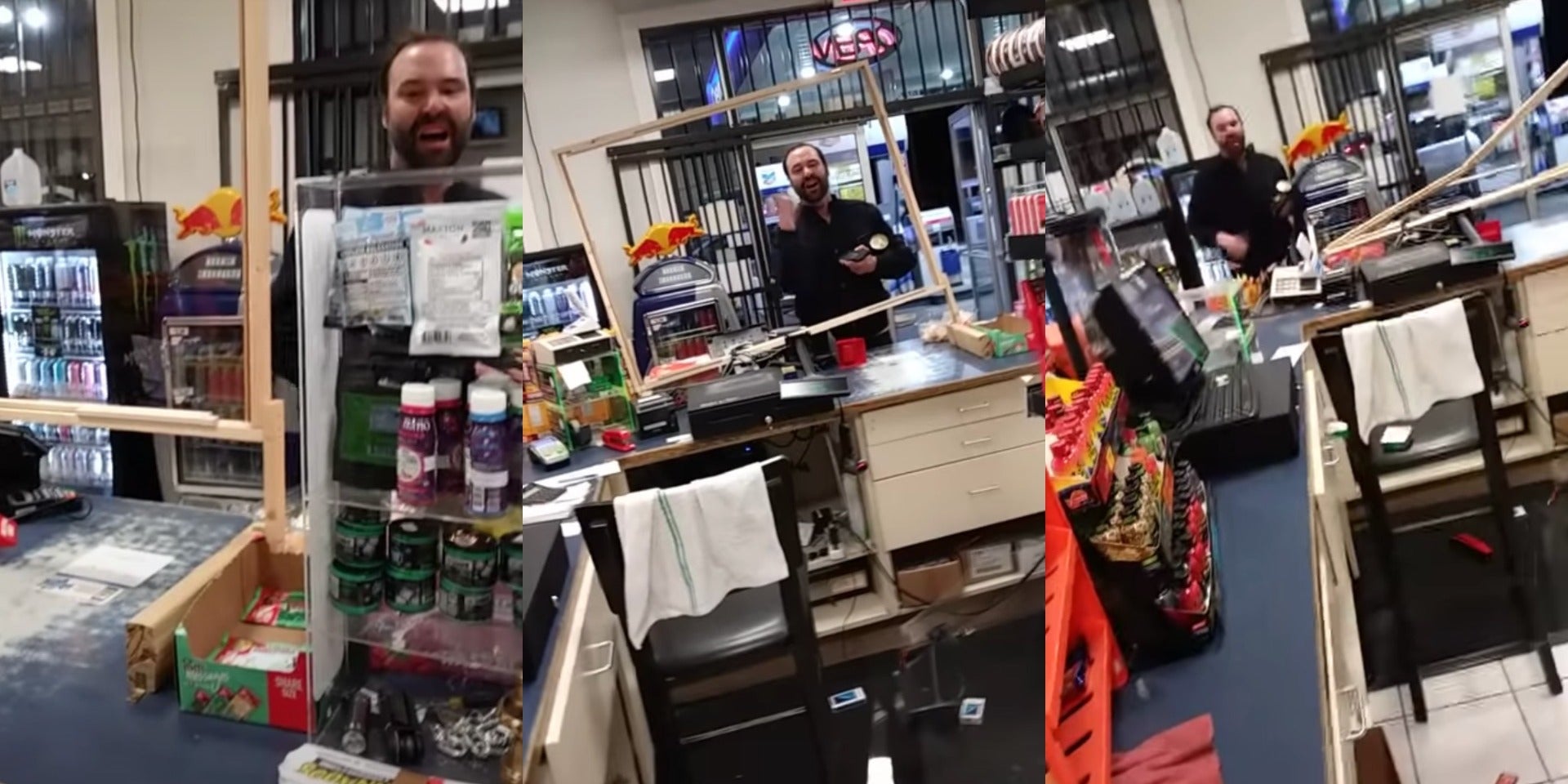 A Portland man was arrested Friday after trashing a gas station convenience store and pelting an employee with items, harassing him with anti-Muslim slurs, and threatening to kill him. The destruction was captured in a viral video.
The assailant, 43-year-old Brian Christopher Miller, was arrested on suspicion of first-degree criminal mischief and third-degree robbery after wreaking havoc on a Chevron on Friday, OregonLive reports.
The four-and-a-half-minute video begins with Miller antagonizing the employee, a 68-year-old Afghan-American man, according to his son, who uploaded the footage to YouTube.
"Is that how we do things in America?" Miller asks. "Afghan? Al-Qaeda? Osama?"
Miller continues taunting the employee and tells him, "I'll grab that fucking camera out of your fucking hand, dude. I don't like cameras."
Miller then walks behind the counter to pick up several packs of cigarettes laying on the floor. 
"I don't want your fucking cigarettes now, dude," he says as he throws money on the ground. "But here, let's call this the barter system. Five fucking dollars. You can owe me."
Miller continues to throw snacks at the employee and knocks a rotating pizza display off the counter. He then demolishes the cash register and the protective glass partition separating it from customers as the employee shouts, "Oh my God!" 
"You put it on YouTube and you tell them what America's done with you unholy immigrants, and I'll fucking shoot you in the back," Miller says.
The employee flees through the back of the store. Standing outside in the darkness, he asks where the police are as Miller continues to destroy the store. 
Portland police arrested Miller outside the Chevron, where he appeared "most likely under the influence of alcohol or drugs," OregonLive reports. He was booked into jail and later released without bail. 
In a statement to KOIN 6 News, the Chevron employee's son said, "I believe this was an example of white privilege. The guy was released less than 24 hours after it happened with just a slap on the wrist. If the roles were reversed, I think the outcome would have been very different."
The post Video shows white man trashing convenience store, harassing employee with anti-Muslim slurs appeared first on The Daily Dot.