dailydot CyberS
Viral post shows just how poorly Black actresses are treated—especially when it comes to their hair
A Twitter thread highlighting the lack of equitable hair treatment for Black actors and actresses in the film and television industry has gone viral.
The thread, which starts off by noting how some Black actresses like Tati Gabrielle, who portrayed Prudence Blackwood Chilling Adventures of Sabrina, or Trina McGee, who portrayed Angela Moore on Boy Meets World had to do their own hair while on the popular shows.
"This shit is so heartbreaking," the creator of the now-viral thread, @ctrlgrlz, wrote.
The tweet has been liked nearly 300,000 times and started a discussion about what it means to have Black hair in Hollywood.
Countless Black actors and actresses have spoken up within the past few years about the lack of attention and care given to them within the entertainment industry, from beauty standards to lack of trained stylists.
Actor Malcolm Barrett said most Black actors get their hair cut or styled offset, often at their own expense.
'"Hollywood hairstylists are one size fit all and that 'all' does not include Black hair,"' Barrett tweeted. "This has been my experience for the last 20 years in the business & it hasn't changed at all."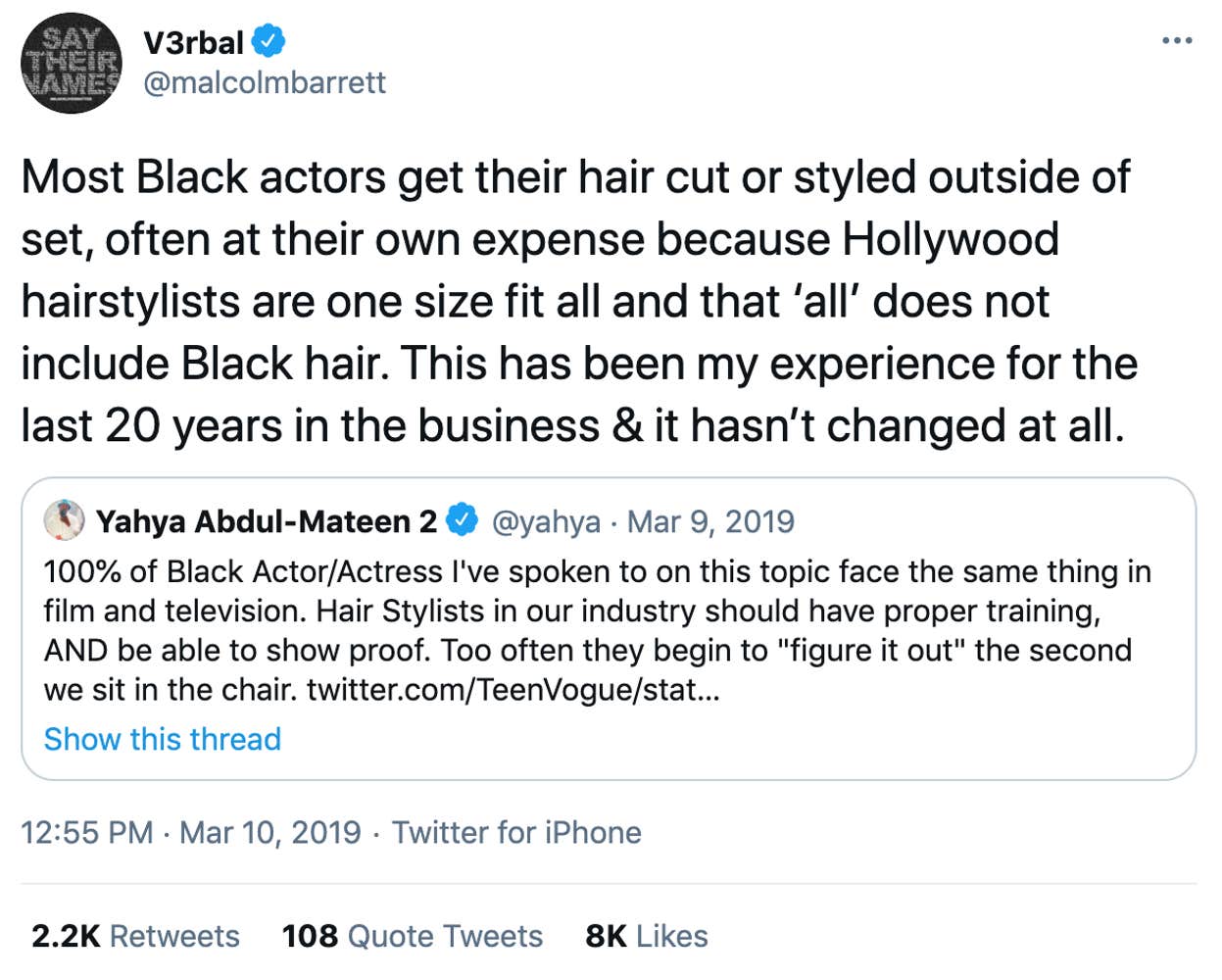 Hair texture varies between ethnic groups depending on the size and shape of hair follicles. Afro-texture hair, common to people of African descent, is tightly coiled, which makes it more difficult for oil to spread evenly along the hair. 
Monique Coleman, who played Taylor McKessie in High School Musical, recently revealed the reason why her character wore her signature headband was because stylists on set did it poorly in the front.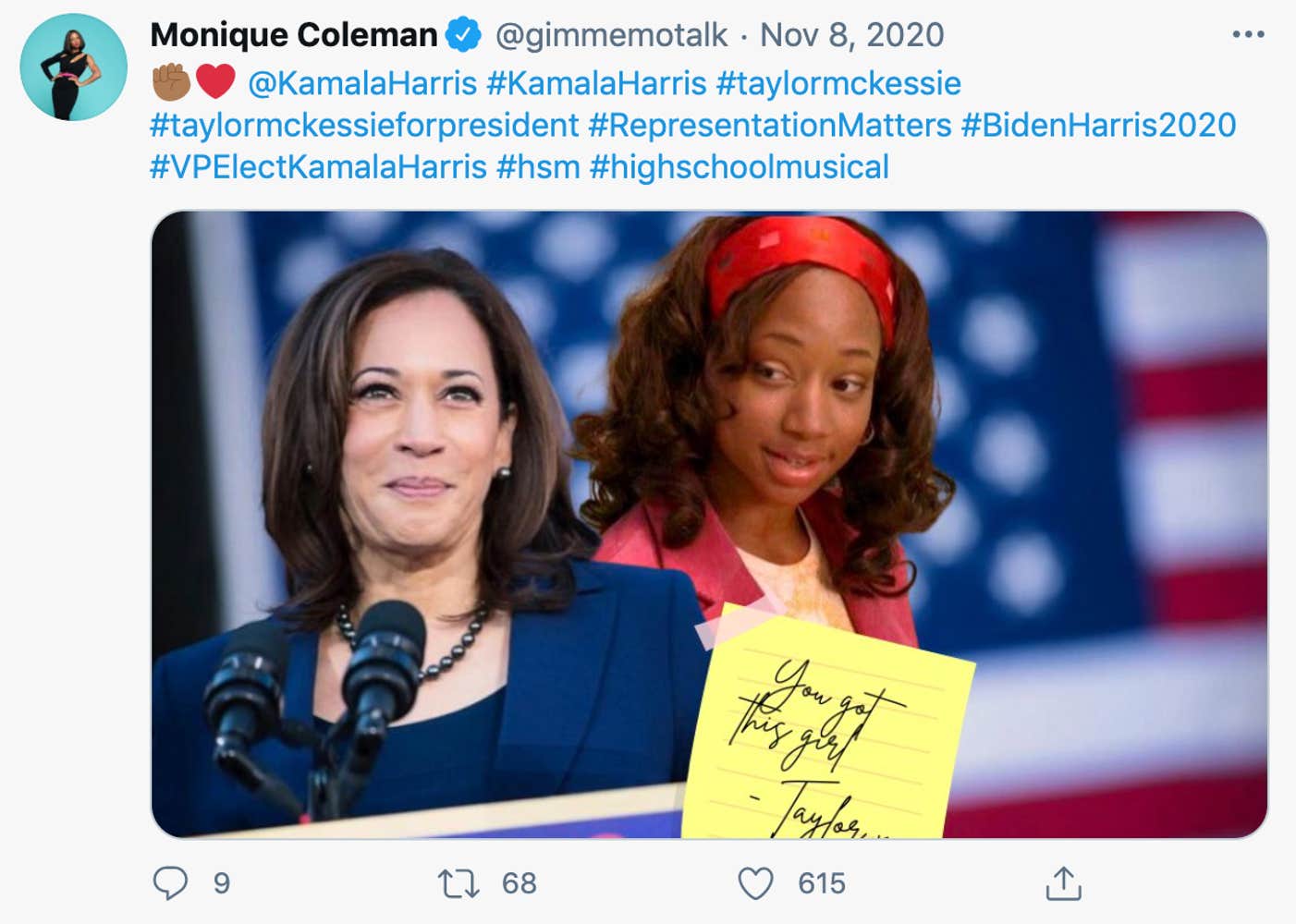 Coleman said she made suggestions to stylists about incorporating the headbands into her character because filming schedules didn't allow enough time to fix her hair.
People on Twitter are demanding that more time and resources go toward creating inclusive working environments for Black actors and actresses, which includes hiring someone who knows how to do their hair.
Twitter user @KickThatHoe said, "like the production teams make millions of dollars and you're telling me they couldn't EVER..on any show..find NUAs and hairstylists that were qualified to do ALL types of hair?"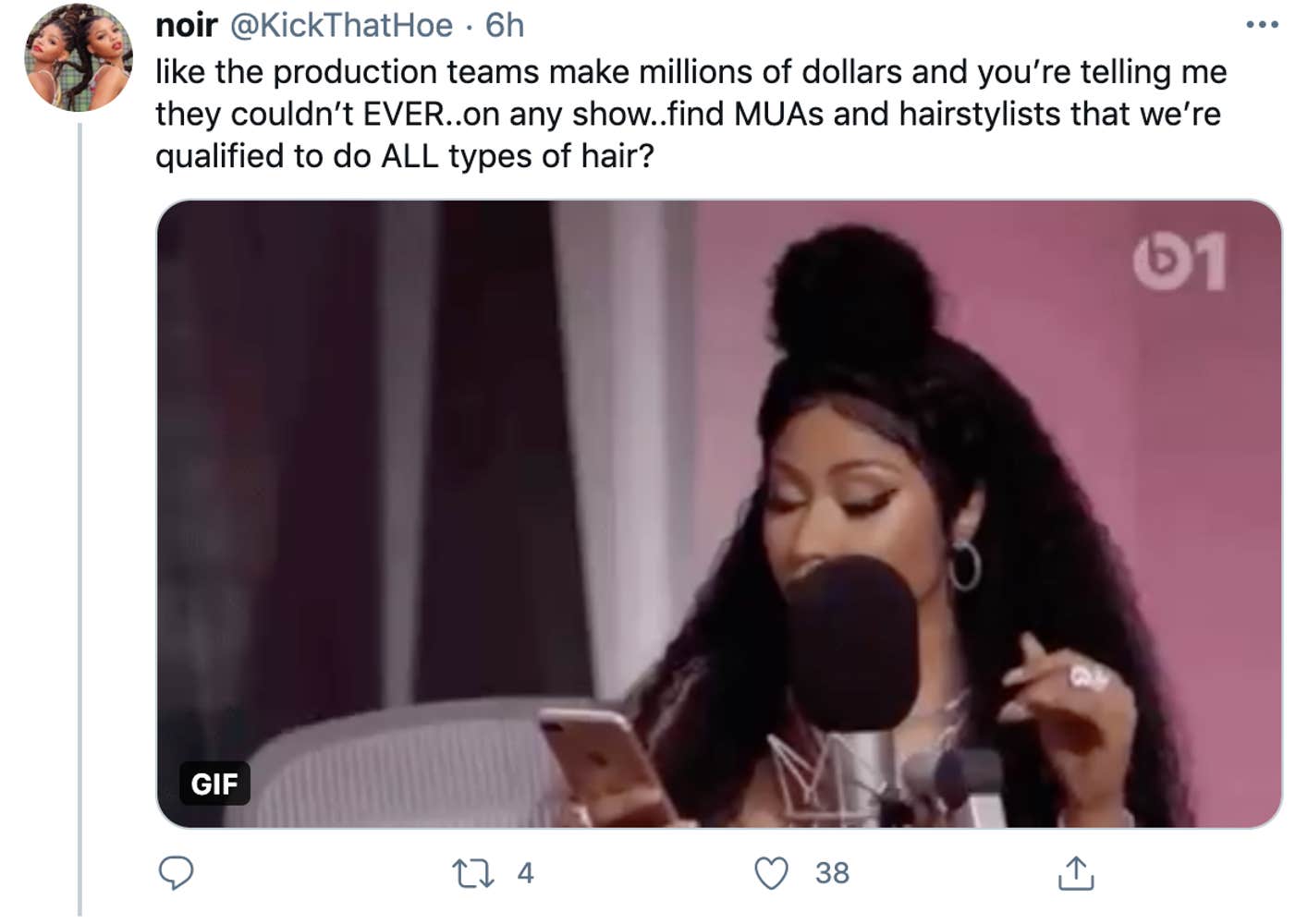 Chilling Adventures of Sabrina star Jaz Sinclair opened up to Glitter Magazine about the stress she feels every time she sits in a new hair chair. "Sometimes you get people who are equipped, and sometimes you get people who are not equipped, and it's freaking stressful," Sinclair said. "It's not fair that my white costars get to roll out of bed and feel taken care of and that I don't have that same luxury."
One Twitter user thinks the industry is too racist to hire Black people to work as hairstylists. "Hiring black hairstylists is literally a better option because most are trained in white hair and self taught in black hair. Meaning they can do both," they wrote.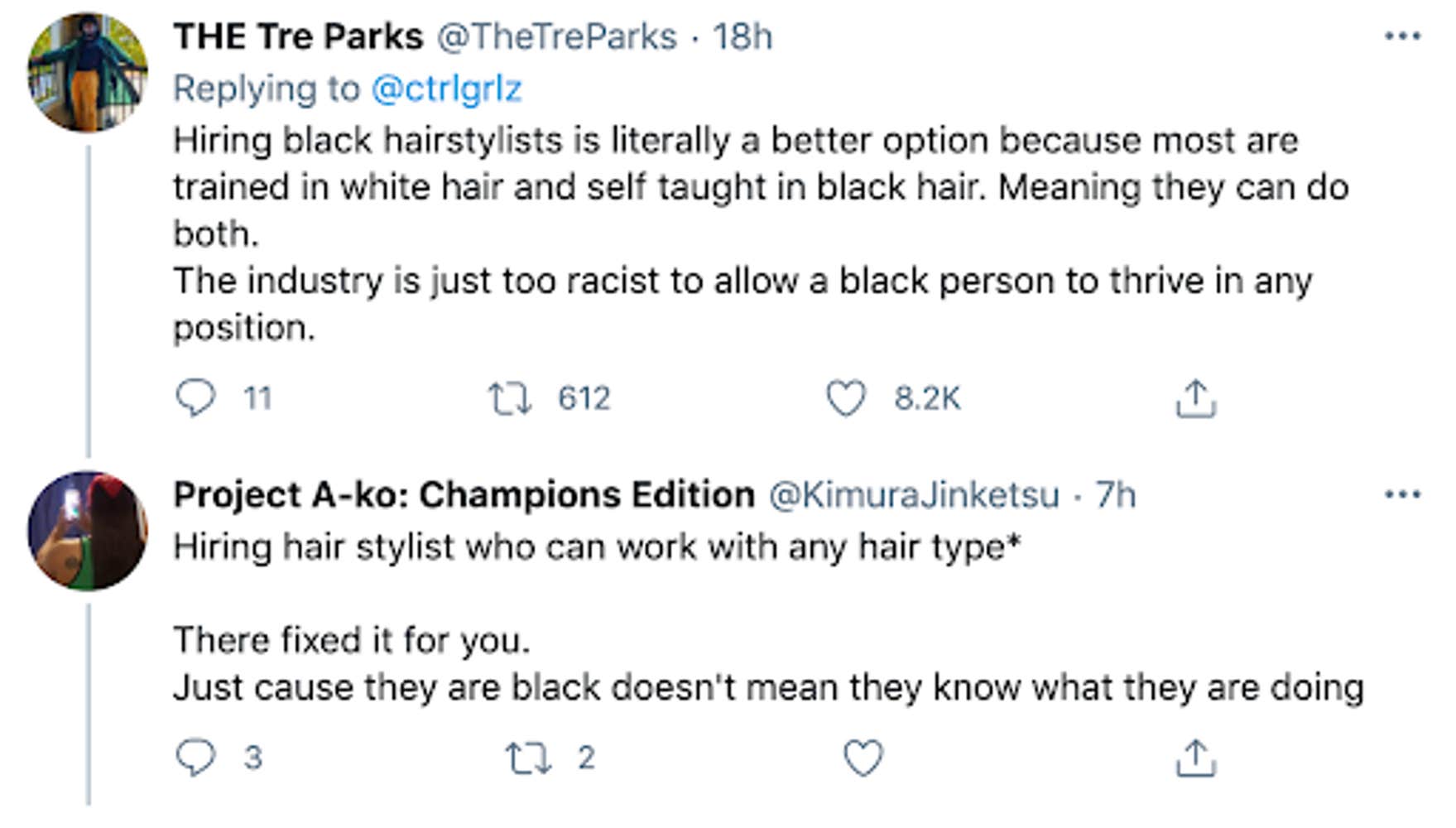 The CROWN Act, which stands for "Creating a Respectful and Open World for Natural Hair" and prohibits race-based hair discrimination, has only passed in seven states.
But Twitter users are also finding reasons to celebrate as they discover that the hairstylist for Black Panther, Camille Friend, will also be styling Halle Bailey in the upcoming live-action remake of Disney's Little Mermaid. 
"Thank god they got someone who knows how to properly style that type of hairstyle," said one Twitter user.

The post Viral post shows just how poorly Black actresses are treated—especially when it comes to their hair appeared first on The Daily Dot.