dailydot CyberS
Viral video: School board members disrespect teacher's 'final request' after he died of COVID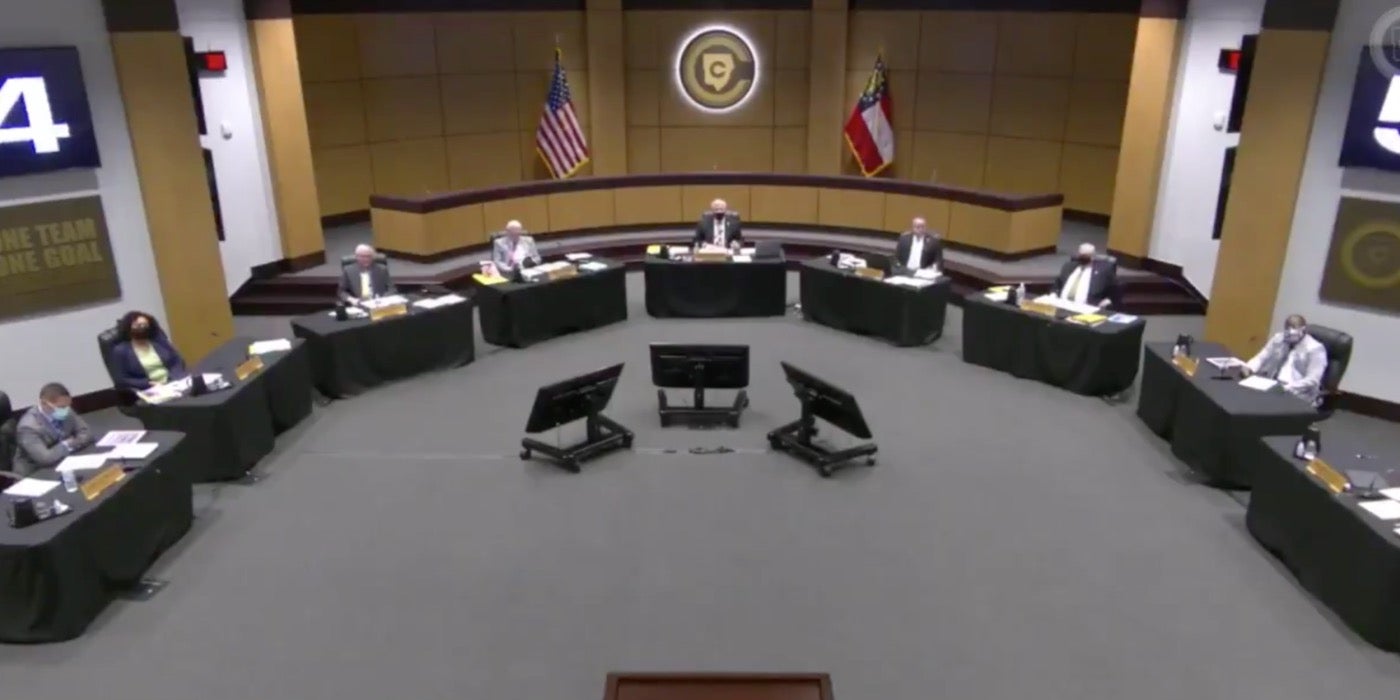 A now-viral video shows a school district superintendent and two other school board members refusing a teacher's "dying wish" for them to wear masks during a meeting on Friday in Cobb County, Georgia.
According to a Washington Post report, employee Jennifer Susko appealed to Cobb County school board members who weren't wearing masks "to put them on in honor of Hendricks Elementary School kindergarten art teacher Patrick Key, 53, who died Christmas Day after he was hospitalized for about six weeks with COVID-19."
The video has since gone viral on Twitter and Reddit.
Susko invoked Key's obituary during the meeting. "His obituary said: Patrick felt passionate about wearing masks during the pandemic. In lieu of flowers, please buy and wear masks to protect yourself and others in honor of him," she said.
Susko then asked for a moment of silence in honor of Key. She then asked the Cobb County school board members to put on their masks "as a tribute to this teacher who did everything you asked of him, even teaching through a pandemic."
Most already had masks on, but at least three people, including Superintendent Chris Ragsdale, remained maskless. 
"I would like the record to reflect that some of you did not wear a mask, the final request of a Cobb teacher who died," Susko said. "Your actions in these two minutes have spoken louder than words. We see where your priorities are. Please know that many of us reject your false gratitude for staff since we seem disposable to many of you."
Per the Post report, Cobb County has reported 58,973 coronavirus cases as of Sunday, "the third-highest number in the state, and has experienced a surge in infections since December. Nearly eight out of 100 people have tested positive in the county, double what that number was less than two months ago."
On Jan. 21, Cynthia Lindsey, a paraprofessional at Sedalia Park Elementary, also died of COVID-19 after spending 11 days on a ventilator. She died on the same day as Cobb County teacher Dana Johnson. The two died with hours of each other.
"I would say to the leaders of the Cobb County School District that they have blood on their hands," said Heather Welch, Key's niece, in an interview with WSB-TV Channel 2 in Atlanta.
The post Viral video: School board members disrespect teacher's 'final request' after he died of COVID appeared first on The Daily Dot.