dailydot
'What is happening to this world?': Shoppers Drug Mart customer says she spent $41 on only 3 things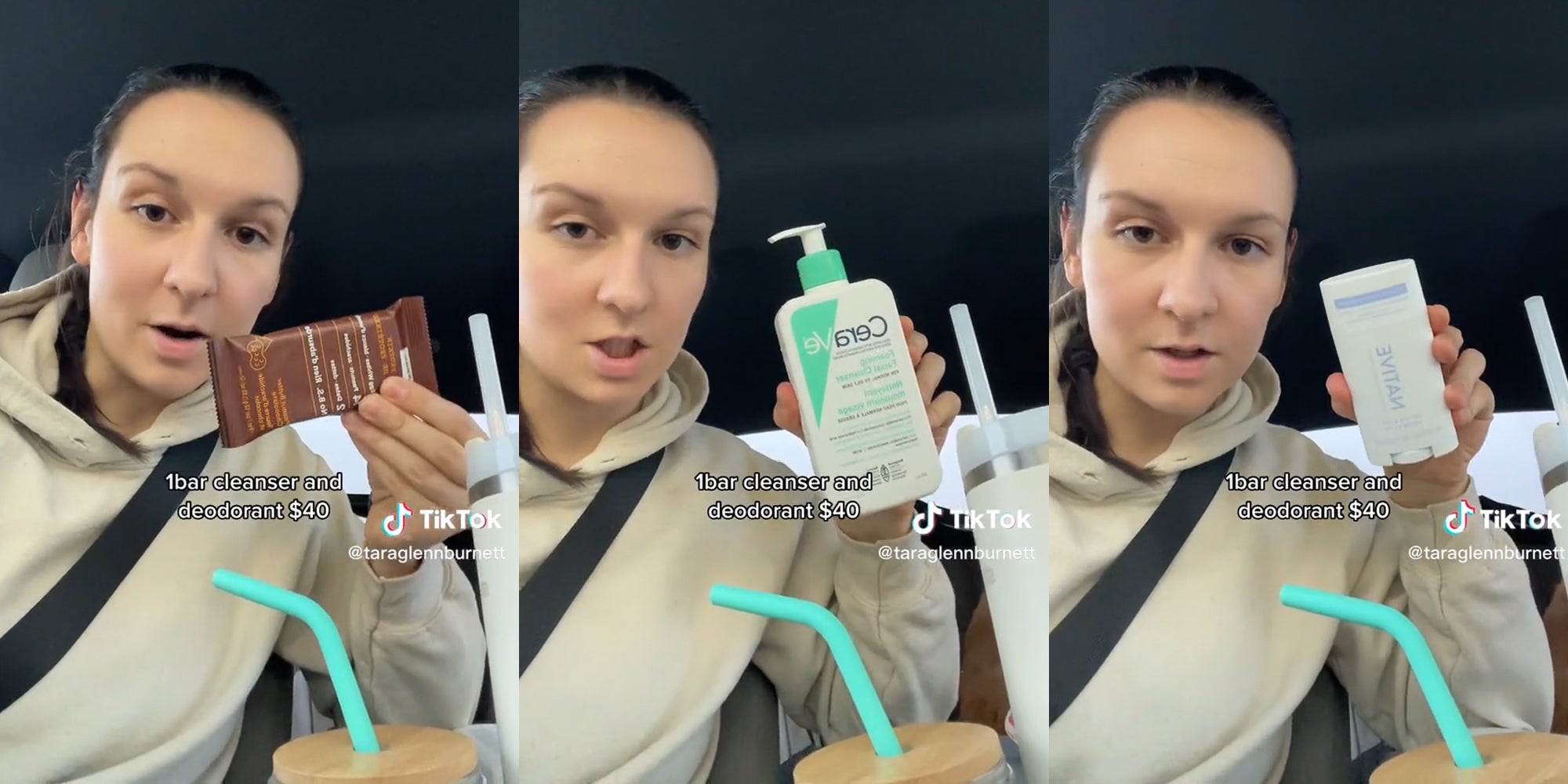 A user on TikTok has sparked discussion after claiming that a purchase of just three items from Shoppers Drug Mart cost her over $40 CAD, or about $30.73 USD.
In a video with over 24,000 views, TikTok user Tara (@taraglennburnett) shows the three items in question. They include an RXBAR, a cleanser, and a deodorant stick.
"What is happening to this world?" she asks at the end of the video. In the caption, she adds, "Like why is life expensive.. #inflation."
At first, some users claimed that Shoppers is thought to have higher prices than competing outlets. Others noted that the items Tara purchased are on the more expensive side, meaning that a bill of over $40 CAD isn't out of the question.
In comments, Tara notes that these are some of just a few products she can use and that she does not have many options for skin care as "a girl with a lot of sensitiv[ities] doesn't have much of a choice." Furthermore, she says that Shoppers is the "only place in town" that carries the products she can use.
The Daily Dot reached out to Tara and Shoppers Drug Mart via email.
Still, many users took the comment section as a space to vent their frustrations about the rising cost of goods.
"At my local shoppers I bought two small tube perfumes and it costs me $60," wrote one user.
"Dry shampoo at Walmart was on sale for 10 dollars from 18 and last I remember it was like 7-8 dollars full price," added another. "things are getting ridiculous!"
"Went one day for 3 things of makeup," recalled a third. "Ended up to $63 and not even good brands tried the cheapest I could find."
As indicated by Tara's caption, many users were quick to blame "inflation"—which, according to Investopedia, can be defined as "a ​​rise in prices, which can be translated as the decline of purchasing power over time."
However, some claimed that some higher prices can be attributed not to inflation, but price gouging. 
"People out here yammering to stop buying the expensive stuff, how about we stop getting price gouged?" asked a user. "That deodorant was $13-15 last year."
Numerous industries have been accused of price gouging as of late.
Recently, an activist group garnered headlines after claiming that the rising cost of eggs was not due solely to an outbreak of avian flu, but a "collusive scheme among industry leaders to turn inflationary conditions and an avian flu outbreak into an opportunity to extract egregious profits reaching as high as 40 percent."
In early 2022, an economist went viral on Twitter after claiming that companies were "literally bragging about hiking prices while hiding behind 'inflation.'"
At a congressional hearing held in September of 2022, former U.S. labor secretary Robert Reich said that companies were "raising their prices above increases in their costs" — something they could do as they "face so little competition."
"Since the 1980s, two-thirds of all American industries have become more concentrated," Reich explained.
The beauty industry faces a similar concentration, with 7 manufacturers behind over 180 beauty brands, per a 2017 article from Insider.
Regardless of the reason, users are fed up with high prices.
"Yep that's how my grocery bill is like 1k a month now," shared a commenter.
Sign up to receive the Daily Dot's Internet Insider newsletter for urgent news from the frontline of online.
The post 'What is happening to this world?': Shoppers Drug Mart customer says she spent $41 on only 3 things appeared first on The Daily Dot.