BuzzFeed CyberS
Why Was The SCORPION Unit That Killed Tyre Nichols Spending So Much Time In A Middle Class Black Neighborhood With Relatively Low Crime Rates?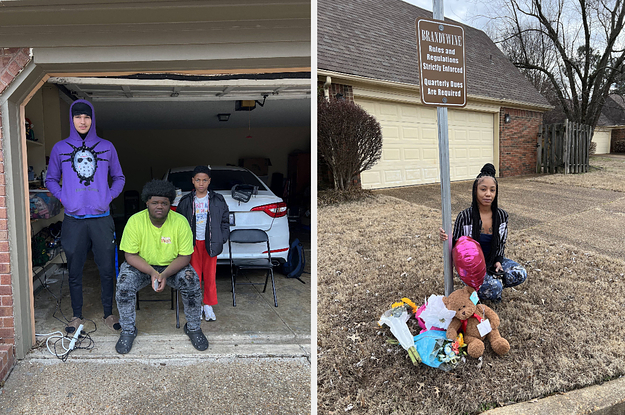 The overall crime rate in Memphis declined by around 25% from 1995 to 2019, mirroring the national trend. As in many cities, the pandemic has brought an uptick in violent and property crimes in Memphis, which has one of the highest rates among big cities in the US.
In the years since the pandemic started, Hill and other residents said that they noticed more car break-ins and robberies in Hickory Hill, as well as a spate of shootings. Cameron Ayers, a 17-year-old high school student, said somebody shot at him at a nearby gas station a few months ago in a failed attempt to steal his car. In November, one of his classmates at Kirby High was shot at the Sonic; two teenagers were arrested and charged with attempted murder. But while those incidents left him shaken, Ayers said he had no faith that more policing would solve the deep rooted problems in a city where financial struggles fuel desperate actions.
"Police here not doing anything," said Ayers, as he cut his friend Phillips' hair in the open garage. "People need jobs, people need money."
When the city announced the formation of the SCORPION unit in 2021, Hill said she was immediately concerned that the heightened police presence would bring heightened aggression.
"SCORPION was never gonna be any good," she said. "It just opened the door to an abuse of power."
Phillips, the other high school student, said that officers showed up at his family's home last year to inform them that unmarked police cars would begin patrolling the neighborhood on the lookout for drug transactions. In October, he said, the city put up a surveillance camera on a light post across the street from his house. Nearly every day on his walk back from Kirby High School, he said, he saw the unmarked police cars making rounds. They didn't make him feel any safer. Instead, he only saw more threats to avoid.
"You never know what's gonna happen," he said. "We feel like we can't even do normal stuff like walking around."
Nichols was driving home from work when officers pulled him over on Ross Road, the street that leads to his house's subdivision. Body camera footage shows an officer pulled him out of the car while others threatened to Tase him and "knock your ass the fuck out." Nichols then got up and ran toward his house. After the officers caught him on Castlegate Lane, the footage shows them punching him, kicking him, and beating him with a baton while he calls for his mother.