dailydot CyberS
'You were being a misogynistic sexist piece of sh*t': Twitch streamer shuts down troll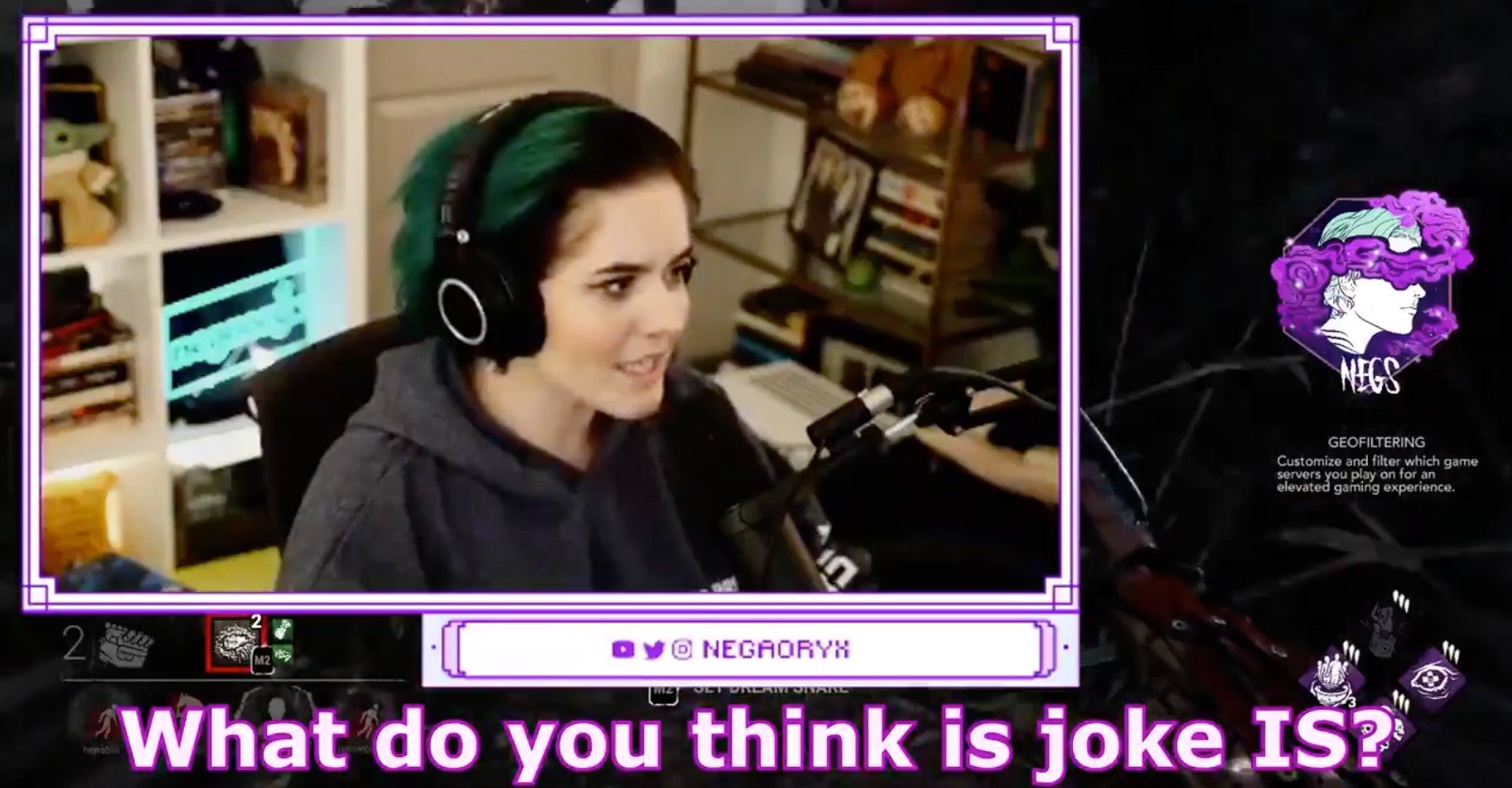 Twitch streamer Negaoryx shut down a sexist sexist troll on Sunday, calling the commenter "an infant of a human." After they write that they were "joking," the streamer says, "You were being a misogynistic, sexist piece of shit."
Negaoryx, 27, is a full-time streamer, host, and voice actor with over 109,000 followers on Twitch. She streams video game content while interacting with commenters and other content creators.
In a recent live stream, a commenter asked, "What color is your thong today." She said immediately, "Respect women." She then discussed the "misogynistic" nature of these kinds of comments.
"What did you expect me to say, blue?" Negaoryx said. "What do you think people are gonna do, my dude? How do you see this going any other way than how it went."
The commenter wrote, "You cant take a joke lmao." Negaoryx fired back, "What do you think a joke is?"
"Can you imagine John Mulaney getting up on a stage and pointing at a woman in the audience, and going 'What color is your thong?' And then she goes, 'Excuse me? That's fucked up,'" Negaoryx said. "And he goes, 'You can't take a joke."
Negaoryx said that "jokes have been ruined" by people who say shitty, misogynistic things who end with "I'm joking" when someone calls them out. She later clarified on Twitter that she was referencing a bit by comedian Mike Birbiglia.
According to the Critical Comic, Birbiglia said that "jokes have been ruined by people who aren't good at telling jokes." He said that the phrase "I'm joking" has become the "catchall defense when people say dumb things."
Birbiglia tweeted that he is "honored to be included" in Negaoryx's speech.
"You were never joking in the first place. You were being a misogynistic sexist piece of shit," Negaoryx told the sexist commenter. "You don't like hearing that because someone's holding a mirror up to you and it makes you uncomfortable."
She continued, "You know you, and you know the parts of you that are good. So in your heart you have to come up with a narrative that makes you feel better about the fact that somebody's asking you to confront the parts about yourself that you hate the most."
Negaoryx, who did not immediately respond to the Daily Dot's request for comment, tweeted the video on Tuesday and wrote, "99% of the time, I ignore trolls and ban them. 1% of the time, I do this."
The video has accumulated over 268,000 likes and over 63,000 retweets. Twitter users commended her response, and one person called her speech "flawless".
Twitch streamer Dr. Lupo tweeted, "Alexa please play this song on repeat." Neaoryx said she responds to trolls only when she feels like she has something important to say—and that she still booted the commenter from her stream.
"Me telling you, 'You're not joking' is me asking for you to hold yourself accountable to be a better person," Negaoryx said at the end of the video. "Because you're not right now. And I'm sorry if that's hard for you to hear because you think you're the hero of your own story, but you're a footnote in everyone else's."
The post 'You were being a misogynistic sexist piece of sh*t': Twitch streamer shuts down troll appeared first on The Daily Dot.